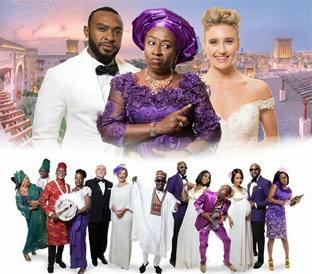 Nollywood acclaimed blockbuster movie, "The Wedding Party 2-Destination Dubai (WP2)'' production, cost N300 million, excluding publicity, says producer.
The WP2 released in December 15, 2017, has raked in over N500 million within the six weeks of its release in cinemas, making it the highest-grossing Nollywood film ever, in such a short time of release.
Kene Mkparu, the Managing Director of FilmOne Distribution Company, one of the Executive Producers of the movie, disclosed this on Wednesday in an interview in Yankari.
The film maker is one of the resource persons at the on-going Consumer Forum of the National Film and Video Censors Board (NFVCB) at the Yankari Game Reserve in Bauchi State.
"Wedding Party 1, cost us over N150 million to make, plus publicity, and the Part 2 cost us N300 million.
We believe you have to spend money to make money, and if you can show from your business plan how you would recoup this money, the banks are willing to give you."
Mkparu further explained that that partnership with relevant stakeholders, especially in tourism, in Dubai added colour to the glitz and glamour of the WP2.
He therefore urged relevant stakeholders in the Nigerian tourism and the film making sector to initiate such partnership for the growth of the industries.
"We pay for some few locations and then entered into partnership with Dubai Tourism, which made available a lot of tourism facilities and hotels in Dubai for us.
"We could shut any where we wanted, as long as the script said so, and we lived in top hotels in Dubai.
"Filmaking is not just for entertainment but to promote and develop tourism as well", he noted.
According to Mkparu, the Wedding Party project has positively changed the narratives of the Nigerian movie industry both within and outside the country.
"The Wedding Party 2 has generated over N500 million as at today, and is now in cinemas across different countries, including England, and Holland and some French- speaking African countries.
"The idea of the film is to show that it is possible in Nigeria today to create a movie that can entertain, sell and make money.
"We wanted to prove that it is possible to make money from all the value chains in the industry, even in the midst of piracy threats.
"The producers looked at what the audience enjoys in cinemas, and we created a script of a topical issue that people can identify with and have fun identifying with those things," he noted.
Mkparu explained that although the movie was raking in huge returns for its investors, it was highly capital intensive.
He therefore urged filmmakers to develop good scripts as business plans to attract financiers, as adequate funding was critical to making sellable movies.
The Wedding Party is a signature title by ELFIKE Film Collective, a partnership between Ebony Life Films, FilmOne Distribution, Inkblot Productions and Koga Studios.
The WP1 was premiered in cinemas across Nigeria in December 2016 and reportedly grossed N203 million in just two weeks, topping the 2016 Nigerian Box Office.
Its seguel, the WP2-Dubai Destination, was then released in cinemas exactly one year after, and it grossed in N73 million within the first three days of its opening. (NAN)