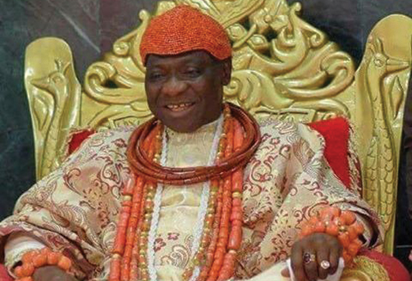 *Ogiame Ikenwoli, the Olu of Warri
•Says he has learnt that there is no alternative to peace
By Emma Amaize, Regional Editor, South-South
The Olu of Warri, His Majesty Ogiame Ikenwoli, says the Ijaw and the Itsekiri are inseparable.
Ikenwoli, who spoke to Sunday Vanguard in his palace in Warri, warned the two ethnic groups in Delta State to desist from attacking one another.
According to him, it was impossible to rule out disagreement between two brothers.
He insisted that no dispute should again degenerate to bloodshed between the Ijaw and the Itsekiri.
The monarch shed light on what he had learned on the throne as the Olu of Warri Kingdom over the past two years.
His words: "The language I want to hear from my Ijaw brothers is that 'Itsekiri people are our brothers'; it does not mean that there might not be one or two issues, but we should not forget that we are one."
"I can tell you that the royal family today is mothered by an Ijaw woman from Isaba, we have our family there. My father, that is, the demised Olu, had two Ijaw wives. One Ijaw wife gave him 10 children, more than the three Itsekiri wives combined gave him. So we cannot separate ourselves anymore because God has joined us together.
"Ijaw and Itsekiri must sit down and understand ourselves and live as one family. If a case comes, we should discuss how to settle it without killing and fighting ourselves, without abusing each other and using hate language. Those things aggravate issues, it should not happen".
Reflecting on his reign, Ogiame Ikenwoli, who celebrated his second anniversary, last month, said: "We thank God for the opportunity to rule the Itsekiri people. Yes, I just finished celebrating my second anniversary. There is nothing happening that was unexpected. My people have been supporting me, the royal family, chiefs and all of them. They are around me ensuring that I rule according to the wish of the people. So, it has not been problematic. The past two years has been fine because of the support I am getting from my people."
Chieftaincy titles 
On the controversy over the Ologbotsere title, he said, "Yes, there might have been one or two issues. Sometime ago, there was a demonstration at my gates here held because of a chieftaincy title. But I am sure that many people did not understand that chieftaincy title in Itsekiri is family-based or honorary.
"The Ologbotsere and Uwangue titles are family titles. Families present candidates for the positions. As the Olu, after the family has nominated two persons and sent to me, I will pick one. That is what happened. The respective families sent the names of two persons to me and I chose the ones I felt were capable of occupying the positions."
He went on: "But there were arguments here and there. Some people had preference for one candidate or the other and they ventilated their opinions, which was why some of them came here to demonstrate. The reason they gave was that majority of the members of the families were not consulted on the nominations for the titles sent to me.
"I said if that was the case, they should go back and do more consultations; I gave them three months to re-present the candidates. I felt that was the right thing to do as a listening father.
"They went and, three months after, they came back with the same names as the choices of the families and, based on that, I went ahead and installed them as the Ologbotsere, the Iyatsere and the Uwangue.
"Those who did not understand did not know that it was not my decision to make really. I only chose from the nominations made by the families.   I know that many have come to understood what actually happened and they are pacified now".
The IRDC affair 
The monarch also spoke on the Itsekiri Regional Development Council, IRDC, promoted by Chevron Nigeria Limited, CNL, for the development of the Itsekiri.   "When I came in, I noticed some things that were wrong and carried out a shake-up, which, I believe, has helped to streamline its operations", he said.
"You know there will definitely be disagreements among human beings, but, as a leader, you must listen to them, know what is wrong and take straightforward positions to advance the growth of the land and cause of humanity.
"What I have learnt so far as the Olu of Warri is that it is good to listen to your people. That does not make you weak; rather, it portrays you as an understanding leader. That formula has helped so farm- my listening to them and appreciating what they want, doing it and everybody is satisfied".
Fascinating people with native intelligence
Asked how he sees the Itsekiri people, he said: "I have always known them as peaceable people.   I grew up in the palace; my father reigned from 1936 to 1951 and my senior brother ruled from 1987 to 2015, so I have always been familiar with my people. "
"To answer your question, they are interesting and peace-loving people, they have a lot of native intelligence and they love their Olu. Of course, the Itsekiri only have one king and they are loyal to the king. They serve the king and subject themselves to him. So they are people who support the institution of the Olu and, like I said, just try to understand them, know what they want and yield to their needs when they are right, otherwise, they are quite an interesting people".
My peace mission
Speaking on his peace mission to neighbouring ethnic groups, Ikenwoli said: "Well, that actually is one of my cardinal policies because, in the past, we had problems with our neighbours. In Warri those days, you did not know who was Ijaw or Itsekiri or Urhobo, we lived together as a family. Warri is not limited to Warri city. When you say the Olu of Warri, people think it is just Warri city, no, Koko is Warri Kingdom, Escravos is Warri Kingdom, and all of that.
"So it was a regrettable conflict we had with our neighbours at that time. Having mounted the saddle as the Olu, though I did not expect it, somehow, God has a way of determining these things; I am doing everything to bring our relationship to what it should be with our neigbours.
"I made the pronouncement during my coronation that we must be at peace with our neigbours and, after I was crowned, I started visiting our neighbours. I met the Olomu king, met the Ijaw king at Akugbene Kingdom and also met my neighbor here, the Ovie of Uvwie Kingdom, HRM Emmanuel Sideso. I went to Isoko and all that to see the people and their leaders.
"It is a well-appreciated policy and efforts and at the royal fathers' level, we are happy to be at peace with ourselves and it has to transmit to our subjects. And I know that when they see us relating as royal fathers, our subjects will follow suit. Therefore, I am pursuing peace and will continue to pursue it".
Maritime varsity
Speaking on the Nigerian Maritime University, NMU, the monarch said the Itsekiri were happy that the university was going to be at the allocated site. "But when Vice President Yemi Osinbajo came the other time, I did not want to look down on the Ijaw, they are important as we are, these are things that have been there for a very long time, but when people talk about it, they say it with hatred, which is not supposed to be at all, I told him the same thing, we are not opposed to the university, but the government should uphold the rule of law", he said.
"Recently, the National Assembly took up the matter; our youths went there to present their case. It is not as if we are saying that they cannot live there, but let the truth be known without hatred or malice, so the Ijaw should not be angry, the Itsekiri should not be angry, we must live together as one family".
Revealing what he discussed with the Vice President when he visited him, last year, the traditional ruler said:   "When the Vice President as Acting President met with me, we discussed two issues, one of which is that Warri Port and Koko Port have been left unutilized for a very long time, while ports elsewhere are suffocating. I said when Warri Port was booming, we had no armed robbery, kidnapping as we see it today. People were engaged, so government should reactivate them to create employment for our youths.
"I also drew his attention to the Export Processing Zone, EPZ, at Ogidigben. I think they call it Gas City. The ground breaking ceremony was performed by former President Goodluck Jonathan but since then nothing has happened. Though we know that government is interacting with stakeholders, I told him that they should hasten up work because it has a lot of potentials for our youths.
"It can provide job for over 200,000 youths. If that can take off, you will find that peace will come to the region because people will not be idle. Then the Koko-Ogheghe- Lagos Road that had been approved for a very long time, but not executed. If these projects are done, the region will start to boom again".
'What Okowa should do'
On the alleged abandonment of Itsekiri Kingdom by Governor Ifeanyi Okowa, Ikenwoli said; "When Governor Ifeanyi Okowa took over, the economy was not in the best shape; many states were owing workers. So, as far as I am concerned, the man is making good use of what is available at his disposal.
"The road to Ode Itsekiri and adjoining communities, I think he has approved money for the construction of the road, but the bridges have not been done. However, he has earmarked some huge amount of money to address the matter.   "The problem that we also have as Itsekiri, most of our communities are riverine. Apart from Ubeji, Ifie and Omadino, most of our communities are in the riverine areas; so if roads can be built there, it will encourage us a lot; that is why they should help us to speed up the Omadino-Escravos Road to facilitate development in that area.
"I know too that they have a stake too in the EPZ project. The last time, the governor told us that the state government was doing everything to pressure the Federal Government to start the project. All we want is for them to develop our area, build factories to create jobs and people will go back there.
"Doing this crisis, lots of people came to Warri, some relocated to Sapele, Benin but if the state government can open up the place with road and build cottage industries, it will encourage them to go back. Warri is expensive to live in now, so I want the governor to focus attention on the riverine communities and bring life to the area".