By Abdulwahab Abdulah & Onozure Dania
Lagos State Attorney- General and Commissioner for Justice, Mr. Adeniji Kazeem last weekend engaged selected journalists on some pressing matters affecting justice delivery system in the state. The Attorney-General who was tackled on some issues ranging from detention of underage, tenancy law, street trading, default in payment of tax and host of other issues, said the government is willing and ready to improve on what it has achieved over the years to make the state habitable for all and sundry. Excerpts: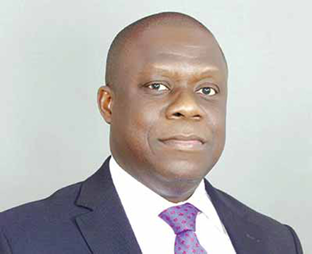 What is the government doing in the enactment of effective laws to curb the excesses of the Agberos (touts) disturbing the peace at motor parks in the state?
The Agberos (touts) who are supposed to be bus conductors, are members of transport unions of some sort, the question would be, can you proscribe them? Can you regulate them? I would say if they are members of a union that is recognised, you have to try and regulate their activities; it is much better. That's a very important point which we've taken on with the Ministry of Transport, and the Police interfacing with these people regularly. Of course, you know that His Excellency, Governor Akinwunmi Ambode has mentioned this in his transport reform. He has stated that the danfos (mini buses) on the streets presently are not befitting of a mega city like Lagos. What he has proposed is that, this year, he intends to introduce world-class buses that will replace danfos in major roads in Lagos State. The first tranche of the vehicles, which are over 800 buses, would get to the country towards the end of the year. With these kinds of buses, there will be better regulation. A lot of these people will find jobs, they will have to be retrained, re-kitted and told how to conduct themselves better in public. A lot of the places from where these buses are going to operate are going to be regulated and well set up. You've seen the Ikeja Bus Terminal? That's world-class. That's the kind of place where these buses will operate from and you can imagine that ruffians and other similar troublemakers will not be allowed in those kinds of places. We are very hopeful that with these reforms being proposed by the governor, things will get better in that area.
The government was challenged sometimes over the arrest and detention of some underage children in prison. What are you doing to avoid reoccurrence of this abnormality?
Yes, it was true; last year there was a joint initiative by this office and the judiciary to visit the Badagry Prison. The Solicitor-General, Mrs Funlola Odunlami accompanied the Chief Judge, Justice Opeyemi Oke on that visit. The visit was prompted by a petition received in this office on this same issue.  Immediately, this office contacted the CJ, and we took steps to initiate that joint visit to release a significant number of young inmates that were there.
One of the fallouts of that visit was that we found out that our Magistrate's courts unwittingly send people who turned out to be underage to these prisons, convicted them and in some cases, imposed fines on them which they could not pay, only for us to find out that these children were not of age, so they should not have been sent to adult prisons. That was a mistake and immediately it was discovered, they were removed from those places to remand homes, where children of that age were supposed to be sent. In some cases, we even paid fines for some of these children so that they could be released.
The issue of our juveniles in conflict with the law, so to speak, is a major issue. Presently, because there are so many of them, the facilities that are supposed to cater for people of this class are completely overstretched. We have one in Oregun and the other one in Idi-Araba for the girls. So, that's one of the problems and we have to do a massive development of additional space for these children, because it's not just about the punishment, it's about reforming them so that they can be useful people to the society.
This is an issue not only for the Ministry of Justice but also for the Ministry of Youths and Social Development. It is something that we are working very actively on, trying to ensure that these children are taken off the streets, these mistakes about them being wrongly sent to adult prisons does not occur again.
After that visit, there was a stakeholders' meeting between family court judges, people from the Ministry of Justice, Ministry of Youths and Social Development and others. We now agreed that there must be a joint effort that the error must be actively addressed so that it does not reoccur. I think there have been some changes since that time. The task force on environmental offences is very aggressive on making sure that they deliver on their mandate and in the process, they go on the streets and come in contact with a lot of people. What we have realised is that a deeper evaluation and assessment of these people that are swept up is done by security services before they are charged to court, so that we can sieve the adults from the young ones.
How has the establishment of the DNA forensics centre in the state impacted in unraveling some criminal cases so far and what plan has the government put in place to get professionals to man the centre?
If you've been following what has been going on regarding the DNA facility, last year, even before the facility came on stream, we had a forensic seminar here sometime in November 2016. That was essentially to set the pace for the DNA forensic lab which was supposed to come on stream. The whole idea is to try and set Lagos as a destination for forensics. The seminar was targeted at creating a world-class seminar that would attract people from all over Africa and within Nigeria. Our security services attended that seminar and it was some form of training too. But we have consultants which we engaged. The consultant is an American firm. When the forensics centre was being launched, the American Consul-General was there, there were representatives of the Federal Bureau of Investigation (FBI), Drugs Enforcement Agency (DEA) of the United States, and they were all there. The American Consul-General commended the fact we were using an American company and which they were very proud of. One of the things the consultant has done is to ensure that a lot of the users of that facility are actively trained. So, from our emergency responders to the police, judges, all sets of people have all attended one seminar or the other, even prior to the setting up of that centre. In terms of training, there has been some major works done there. In terms of personnel, because the consultants are already a functional entity with two labs in the US, International Standards Organisation- (ISO) certified, so they are very experienced. They've also engaged three or four Nigerians who have forensics degrees, biochemistry, etc. They are undergoing training in that facility. They are the forerunners of the local content in that facility because the essence is that after a consultancy period, the facility is handed over fully to the Lagos State Government to run on its own.
Toxicology is one aspect that we intend to add to that facility because it is critical. This is a facility that is going to help us test the presence of poisons and other similar substances, and this facility is not readily available here. Typically, when you find a lot of those things are a result of crimes, you have to send those samples abroad for testing. But when we are able to put that capacity there, it makes it much easier for us to do that. This has a direct impact on criminal prosecution and investigation for this country. Once that is in place, it is going to enhance our capacity greatly. There have been close to 40 cases so far brought there. Cases range from sexual assault, paternity issues, among others. There have been cases from Ghana and other parts of West Africa. There have been approaches from the German and US embassies to collaborate with the lab. So, we feel very encouraged by the attention that the lab is getting and that is what has spurred us on to make additional investments.
The Tenancy Law of Lagos State 2011 has come under some criticisms. Don't you think the law, which some people believe is in favour of the tenants, is due for review, considering some new developments?
The Tenancy Law came into force on August 24, 2011. I wrote to the Lagos State Law Reform Commission, the agency charged with reforming our laws, last year. I directed that they conduct an overhaul of that law, because we felt that as things develop, laws must develop alongside. Last year also, there was a stakeholders' meeting where different people gave inputs on the proposed law. The next stage is for the draft law to be presented. It will come to my office, we will take it to the state executive council, if it is approved, it will go the state House of Assembly, where, I'm sure, a thorough job will be done on the process and I can assure you that barring any eventualities, we shall get a new law this year.
Street trading is another headache being tackled by the state. The government's reforms in that area have been criticized. What is the state doing to tame this menace?
There is a law on street trading and yes, street trading is still a major issue. It has to do with children who are supposed to be in school. We want to address unemployment and other general social issues. You understand that last year or the year before, Governor Ambode was worried about the environment and street robberies, because reports available to us showed that a lot of the street robberies take place in traffic by those hawking. I am not saying all hawkers are criminals, but a significant percentage of crimes occur from there; while you are in traffic. So, government decided to take a very strong stance on it, picking up a lot of these people. Again, you could see the outcry and being a responsive government, we tried to slow down and said look, some of these issues are not entirely criminal; they are also social issues. We need to try and address these issues, such as markets where these people are going to sell their wares, and so on and so forth. So, we are trying to take a holistic view of the issues and provide a solution. Some people have said that in other countries, there are ways that the street furniture architecture is designed to accommodate people that sell on the street, so as not to completely send them away. These are issues that a growing and overpopulated city will face. This job is a 24-hour one, the governor never rests. I guess that it is just the challenge of governing an important state like this.