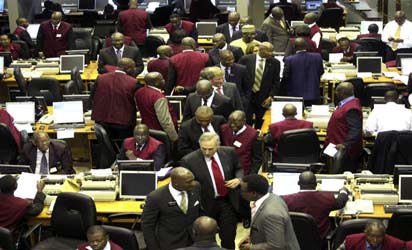 Nigerian Stock Exchange
By Nkiruka Nnorom
The stock market started off the year on a relatively strong note yesterday as investors recorded N8 billion gains on their investment.
Specifically, the equities market capitalisation rose to N13.617 trillion from N13.609 trillion, representing 0.1 percent increase.
The equities performance was a confirmation of analysts' and stockbrokers expectation and projection for the year.
In their projections, analysts at United Capital Plc posited that the market performance last year was inline with other global stock markets, saying, "2017 was a stellar year for the Nigerian equity market as the benchmark index halted three successive years of bearish trend while ranking as the 2nd best performer in Africa.
"Going into 2018, our near-term outlook for the equity market remains positive due to improving macroeconomic fundamentals. However, a major downside risk is the upcoming general elections in 2019".
A breakdown of the trading activity yesterday, showed that the All Share Index was also up 0.1 percent to 38,264.79 points from 38,243.19 at the end of last year.
The market was mixed as three of the five sectorial indices closed positive while the remaining two closed in the negative region. The insurance sector recorded the highest return at 0.9 percent, propelled by 4.66 percent gains in Axa Mansard Insurance Plc. The consumer goods sector followed by 0.3 percent increase following a 4.76 percent gains in Honeywell FlourMills Plc and 1.80 percent increase in Dangote Sugar Refinery Plc.
The industrial goods sector ranked third with 0.2 percent increase riding on the back of five percent increase in Chemical and Allied Products, CAP Plc.
However, the 4.93 percent increase in Eterna Plc could not lift the the oil and gas sector as it closed closed as the biggest loser for the day, dropping by 0.4 percent on account of 3.40 percent decrease in Forte Oil Plc.
The banking sector was down 0.03 percent impacted by -3.72 percent decrease in Union Bank of Nigeria, UBN Plc.
Further analysis showed that for every two gainers in the market, there was a loser as 27 gainers emerged compared to 13 stocks that recorded price depreciation.
FCMB Group Plc led the gainers table with 6.76 percent to close at N1.58 from N1.48 per share, followed by CAP Plc with five percent increase to close at N35.70 from N34.00, while African Prudential Plc rose by 4.98 percent to close at N4.49 from n4.22 per share. Eterna Plc appreciated by 4.93 percent to close at N4.26 from N4.06, while Fidelity Bank Plc went up by 4.88 percent to close at N2.58 from N2.46 per share.
On the other hand, NEM Insurance led the laggards, declining by 4.82 percent to close at N1.58 from N1.66. Ecobank Transnational Incorporated, ETI, emerged second on the losers' table, dropping by 4.29 percent to close at N16.27 from N17.00 per share, while Omoluabi Micro-finance Bank Plc went down by four percent to close at 0.72 from N0.75 per share. Wema Bank Plc and Trans Nationwide Express Plc went down by 3.85 percent apiece to close at N0.50 from N0.52 and N0.76 from N0.78 per share respectively.