By Peter Egwuatu
The Nigeria Stock Exchange, NSE yesterday continued its record breaking performance with total market capitalisation rising by N437 billion, thus extending investors gain to N1.7 trillion in the first eight trading days of the year.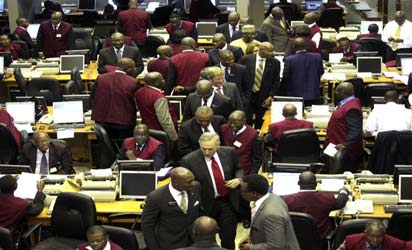 Driven by rally from both local and foreign investors, the Nigeria Stock Exchange, yesterday's performance jerked up the NSE All Share Index,  to 43,041.54 points, the highest  in nine years.
Specifically, the All share Index significantly appreciated by 1,125.43 points or 2.9 percent from 41,816.11 points on Wednesday, the highest since October 2009.
In the same vein, market capitalisation (total values of shares), which opened at N14. 8 trillion increased by N437 billion to close at N15.317 billion.
The Year to Date, YtD return expanded to 12.5 percent from 38,264.79 points on 2nd   January to close   at 43.041.54 points. In similar manner, market capitalisation gained N1.7 trillion or 12.5 percent in 8 days trading period of the year.
The market had on Tuesday recorded a three year high All Share Index high of 40,362.97 points, the highest since October 2014.
According to analysts at Lagos based  Afrinvest Plc,  the market rally was  boost by gains from the blue chips stocks across the subsectors.
"Despite the decline in market breadth, sentiment remained positive. Hence, we expect the market to close of the week positive", they stated.
Analysis of yesterday trading shows that the performance across sectors was bullish as all indices closed in the positive. The Banking index was the top performer, rising 4.4 percent on the back of buying interest across board. However, performance was driven largely by tier-1 banks namely  Guaranty Trust Bank Plc, which went up 4.9 percent and Zenith Bank 3.1 percent.
The Industrial Goods index followed suit, closing 3.3 percent as an upswing in Dangote Cement 2.0 percent buoyed performance while the Consumer Goods index rose 2.3 percent following upticks in Nigerian Breweries Plc which rose 4.6 percent and Guinness Nigeria Plc 9.6 percent. Similarly, price appreciation in SEPLAT by 2.3 percent and Forte Oil by 8.7 percent drove the Oil & Gas index at 2.7 percent northwards while the Insurance index recorded a 1.7 percent increase following a rally in Mansard Insurance by  8.4 percent and AIICO Insurance Plc  by 3.5 percent.