By Chinedu Adonu
ENUGU- TRADITIONAL ruler of Umuoha Obuoffia autonomous community in Nkanu West local government area of Enugu State, Igwe Obiora Igwesi, has endorsed President Muhammadu Buhari for a second tenure.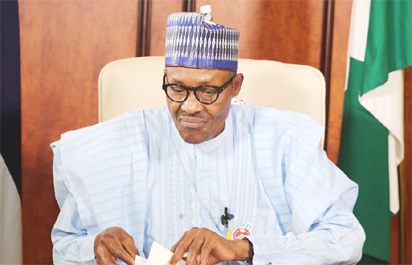 The Monarch asked Nigerians, irrespective of political or ethnic differences to support Buhari as President of Nigeria in 2019, adding that all Enugu State and South East region are in his support, come 2019.
Igwesi gave the endorsement in his palace on Tuesday while receiving the Special Adviser to the President on Media and Publicity, Femi Adesina.
The first class traditional ruler who urged Buhari to continue with his campaign on eradicating corruption, noted that before Buhari came into office, Nigeria was seen by the international community as a corrupt nation, but now the story has changed.
Igwesi who is the elder brother of Hon. USA Igwesi, a former member of the House of Representatives, praised President Buhari for stamping out corruption, the bane of development in the country.
"Those who looted our wealth are vomiting it. Send concerns of this palace to him. We are grateful to him. We urge him to do more. Let him stem the tide of corruption in this country.
"If we had people like him before, this country will be heaven and earth. By 2019, with his health intact, he will come to finish the good job he started" Igwesi said.
The traditional ruler however urged the President to change his impression about the easterners.
He noted that Ndigbo were suspicious about the President before, but now that they have realized that he has good intentions, they are going to support him.
Igwesi assured that they were going to maximize sensitization for the people of South-East to support President Buhari in 2019.
Earlier, Adesina said the President was delighted to hear that he was coming to the South-East.
"It is my pleasure to pass on his goodwill message. The message of Mr. President is that development will come to Nigeria. Things will happen in Nigeria. A good foundation is being laid. We will all see it. During the time of Buhari, it will happen" Adesina said.
The traditional ruler later presented a Holy Bible to the presidential spokesman who was accompanied by his wife and Oba Rufus Ogunwale, Alagba of Agba Kingdom in Osun state amongst others.