BY UMAR YUSUF
THE umbrella body group of Fulani herdsmen, Mobgal Hore Fulbe, Nigeria, has alleged silent killings of herdsmen and rustling of cattle in Numan and Demsa Local Government areas of Adamawa State.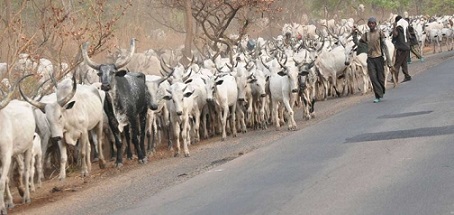 The group, which rose from a meeting in Yola yesterday, urged the government to take urgent and concrete steps to check the development, claiming that over 4,000 herdsmen and their families displaced along the River Banks in Numan and Demsa, following the crisis between them and Bachama tribe, were now returning to their bases.
Speaking at the meeting, the North-East Chairman of Miyettti Allah Cattle Breeders Association of Nigeria, MACBAN, Alhaji Mafindi Danburam, alleged that there were silent killings of herdsmen by Bachama militia, who are still mounting checkpoints in the areas.
According to Danburam, "the latest is the abduction and killings of three of our youths on transit by the Bachama militia who disguised as vigilante. We are citizens of Numan and are set to return to our villages burnt down along the river banks; we need security protection and the immediate disbandment of vigilante groups," Danburam said.
He also called on the Federal Government to investigate the distribution of relief materials to Fulani victims of the crisis, adding that what was announced as their allocation was yet to reach them.
He said: "What was announced as our allocation was far less than what the victims received. The Federal Government and NEMA, who brought the materials and handed them over to some officials, need to investigate this serious matter as victims are agitated."
Danburam also accused the Federal Government of discriminating against the Fulani herdsmen pointing out that the Vice President Yemi Osibanjo and Secretary to the Government of the Federation, Boss Mustafa who visited Numan inspected Bachama affected villages and ignored the Fulani settlements destroyed during the crisis.
Also Speaking at the meeting, the Adamawa chapter chairman of MACBAN, Alhaji Ja'oji Isa and his counterpart from Tabital Pulaaku, Alhaji Abdu Bali, corroborated Danburam's speech and urged government to take concrete steps before things degenerate.