By Evelyn Usman
lagos—The Senate Committee on Defence yesterday , pledged   to support   the Nigerian Armed Forces Resettlement Centre, NAFRC, with the aim to  developing it   into a world class institution capable of repositioning ex-servicemen and women to cope with the challenges of re- integrating into civil life.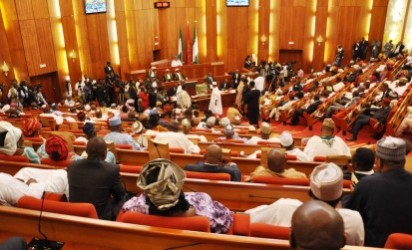 A delegation of the committee led by its chairman, Mr Abubakar Kyari made the pledge during at oversight visit to the centre.
Kyari explained that members of the committee were not on a fault finding mission, was the  budget oversight function  of the community a witch-hunt  exercise or an attempt by parliament to intimidate Ministries, Departments and agencies of government.
He   expressed satisfaction that the centre had evolved   from the role of rehabilitating and demobilisig soldiers of war to that of resettling able bodied soldiers who are about leaving service.
But he faulted its management for not carrying the committee along , in major plans such as transforming the centre into a degree awarding university.
He said: "I am concerned that the management of NAFRC could actually   contemplate such a noble cause without carrying along the Senate Committee on Defence.  I understand that the Draft Bill has been lying fallow in the office of the Attorney General of the Federation since 2014. In similar vein, the Defence sector hierarchy has for some years now been attempting to review the Nigerian Armed Forces Act without  seeking inputs     from the legislative branch of Government."
In his welcome address,   Commandant, NAFRC, Air Vice Marshal Austine Jekennu, said the centre had been a major beneficiary of the 'Change Agenda' of the Federal Government.