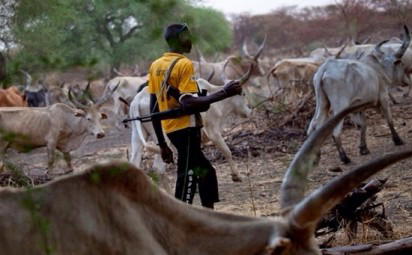 herdsmen
By Mazi Sam Ohuabunwa
THAT the militant Fulani herdsmen have become the greatest security challenge of this nation must be obvious to all who wish this nation well. In fact many objective watchers have declared that the now regular raids by the militant Fulani herdsmen is the biggest security threat facing Nigeria after Boko Haram. Indeed in 2016, more people died in clashes with militant herdsmen than Boko haram attacks. Records emerging from 2017 indicate there were more casualties this past year than 2016, indicating a festering and intensifying menace.
True the Fulani herdsmen and Farmers clash did not start today. It has been long but was limited to parts of the North East and North Central states. Indeed between 1996 and 2006 (ten full years) only about 121 farmers were killed by the Fulani herdsmen, largely in Bauchi, Plateau and Gombe States. But since late 2014 and early 2015 and ever since, the intensity and regularity of the attacks have maintained a steady crescendo engulfing most of the central and southern regions of Nigeria. According to the global terrorism index, over 1200 people were killed by different Fulani herdsmen in 2014.
In January 2015, the Nkpologu community in Uzo-Uwani of Enugu State was thrown into mourning following an unprovoked attack of the Fulani cattle herders. In April 2016, suspected herders invaded Ukpabi Nimbo community in the same LGA killing scores of innocent citizens. The armed herdsmen numbering over 100 stormed the sleepy community in the early hours of a Monday. Indeed in Enugu State virtually all the 482 communities have had their shares of the Fulani herdsmen's barbaric activities, leaving in their wake, perennial tears of sorrows as incidents of killing, robbery, rape, maiming and kidnapping are inflicted on the communities.
Since January 2016, 10 Agatu communities in Benue State have suffered unprecedented hardship in the hands of Fulani herdsmen, forcing Governor Samuel Ortom to ban unrestricted grazing in Benue State. Abia State communities in Uzuakoli in Bende LGA, Ebem and Akanu in Ohafia LGA, Umuchieze in Umunneochi and Abam in Arochukwu have been variously attacked by Armed Fulani herdsmen who act as if they owned the entire Nigerian territory. The carnage caused by these marauders in Southern Kaduna was well reported and nothing could assuage them until Governor El-Rufai of Kaduna State bribed them to calm down or look elsewhere. In the the past year there were attacks in Zaki Ibiam in Benue State in March, in Odukpani Cross River State in April and in May, armed herdsmen attacked villages in Niger State killing 21 people.
The attack of the Fulani herdsmen have not been limited to the North Central and South East States alone. Communities in Lagun, Iyana Offa, Offa, Atagba, Lapata and their surrounding communities in Lagelu LGA in Ibadan,Oyo State have been variously attacked. They have also attacked Ekiti and Ogun states prompting Governor Ayo Fayose to take similar action as Governor Ortom of Benue State. The attack on, and kidnap of Chief Olu Falae made headline news. The attack has gone on up to Bayelsa and Delta states in the South-South Region. Every where, women and men are afraid to go to their farms because of rampaging and raping Herdsmen who attack human beings while their cattle attack crops! This is nothing but war, just as Professor Wole Soyinka classified it in his release last week.
I was moved to do a similar article to this last year, following serial killings in Barkin Ladi and Bassa LGAs in Plateau in the month of October last year. Trouble started. Villagers were killed by armed herdsmen, over 15 people. The State government imposed a dusk to dawn curfew. A second attack happened and 9 people were said to have been killed. Then the soldiers sent to keep peace took the remaining villagers to 'safety' in a primary school building. That same night, 48 hours after the curfew by Governor Simon Lalong, the armed Fulani herdsmen returned, freely killing 27 helpless women and children, asleep in their 'safety nest' in the Nkiedonwhro community in Bassa LGA. This prompted President Muhammadu Buhari to issue a terse statement "the madness in Plateau State which led to the killings of at least 20 people has gone too far."
Good that the President spoke. Good that he called the serial attacks and killings madness. But who left it to go too far?. Nevertheless I reckoned that the presidential outrage and intervention at last would bring the 'madness'truly to an end. But how mistaken I was. On new year day, January 1, 2018, the 'madness' moved from Plateau State back to Benue State. About 70 people including members of the Benue State livestock guards were killed by militant herdsmen in co-ordinated attacks on six Benue communities: Tom-Atar, Umenge and Akor villages in Guma LGA (home town of Governor Samuel Ortom); and Ayilamo, Turan and Ngambe-Tiev villages in Logo LGA. The attacks continued the next day living several persons injured, many homes razed, several persons unaccounted for and thousands fleeing their ancestral homes.  By now it must be clear to all objective observers that the threat posed to Nigeria's unity and peace by the militant Fulani herdsmen has reached a really terrifying point and from all analysis and evaluation of the dimensions and ramifications of this problem, it seems that the Nigerian governments( State & Federal ) lack the capability or the will or both to bring this madness to an end.
If PMB found justification to brand IPOB a terrorist organization because operation python dancers found a double barrel gun in Nnamdi Kanu's home or that one of the IPOB members tried to snatch a rifle from a soldier (what flimsy excuses!), there is no reason, the Nigerian government should not properly classify the armed and militant Fulani herdsmen a terrorist organization as the rest of the world had done many years ago. He should then follow up with proscribing the group and asking for international help to deal with this unfortunate problem. International help has assisted Nigeria in dealing with many security issues including the Boko haram terrorism. This one, indeed calls for External help as Neither the Nigerian Police nor the Nigerian Military seem able to stop these ravaging militants. Time is running out.