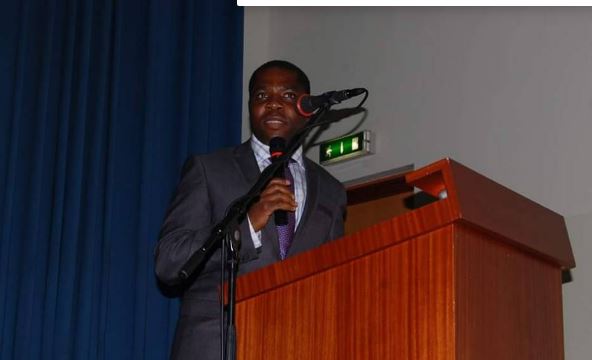 Daniel Elombah
…As Nigerians call for his release
A London-based journalist, Daniel Elombah, who is the owner of an online medium, Elombah.com, has been arrested by operatives of the Special Anti-Robbery Squared, SARS, on New Year day.
Confirming the arrest, Mr. Elombah's wife told newsmen that her husband was arrested around 4:00 am of January, 2018 by the operatives.
She also said that SARS operatives told her that they arrested her husband because of what he wrote against Buhari.
"My husband was arrested in the wee hours of today. They told us they were acting based on orders from above," Mrs. Elombah told newsmen.
Reports also said Mr. Elombah was arrested alongside his brother from their family house in Edoji-Uruagu Nnewi, Anambra State.
Meanwhile, civil society and human right groups as well as other concerned Nigerians have condemned the arrest of the journalist, calling on President Muhammadu Buhari  to order the release of the journalist and his brother.
The concerned Nigerians have equally launched twitter hash tags, #FREE Elombah #FreePRESS, to demand the release of the journalist and his brother.
Spearheading the calls for his release is the Convener Concerned Nigeria, Deji Adeyanju. In a series of tweets, Adeyanju who was also the former Director, Media, to the now opposition Peoples Democeatic Party, PDP, however said it is the right of every Nigerian to criticize his president if he feels dissatisfied with the administration. While accusing President Buhari of trying to gag the press, Adeyanju also said the president can use legal actions on any Nigeria that criticizes him instead of using instrument of state powers.
Also, other twitter users condemned the arrest and called for the immediate release of the journalist.
Condemning the arrest, Adeyanju wrote: "I have just heard of the arrest of London-based journalist Daniel Elombah – owner of Elombah.com and his brother who run his online blog at 4.00am this morning by SARS operatives.
"Journalism is not a crime. SARS operatives had told Daniel Elombah's wife that they arrested her husband because of what he wrote against Buhari.
"We cannot allow these kinds of things go on unabated in 2018. We know that as elections draw near, this government will be more vicious to critics and journalist but our duty is to make sure Nigerians remain FREE to express their views and opinions.
"We are not in a tyranny. You cannot be using SARS or DSS to arrest journalists & critics in 2018. If someone wrote something against president Buhari and he doesn't like it, he should direct his lawyers to sue and not use state institutions to intimidate, harass or arrest them.
"Every citizen has a right to criticize their president. If you can't handle the heat Mr. President, leave the kitchen."
Below are their reactions:
Well said.   We call for the immediate release of Dan.

— Vera Idi (@IdiVera) 1 January 2018
Sometimes i just have this weird feeling that soon the APC led government will clamp down heavily on social media critics.. https://t.co/kp18XLRbwX

— Christian C. Ozor (@ozorcchristian) 1 January 2018
He must be released within the next 24hours. We are going to set @MBuhari handle ablaze until he hear word. https://t.co/9PeM9d1QVz

— flames (@Efua_wealth) 1 January 2018
Since when has that become the job of SARS ? There is a fraudulent angle to that claim by the Rogue Unit. They may be targeting derailing our focus to attacking the Govt so they can claim #EndSARS #ReformPoliceNG is partisan. Don't fall for it. Let them release him NOW! https://t.co/5E72BTwUEv

— SEGA L'éveilleur®🚨 (@segalink) 1 January 2018
Another user, Ade Ope with twitter handle, @adeope212 said, "
@adeyanjudeji that's why they will never EndSaRs

— Ade Ope (@adeope212) 1 January 2018
"
Tell me how many journos were arrested by the past admin on account of criticizing GEJ? ZERO!  We v upgraded to a more RUTHLESS and SADISTIC govt all thanks to 15m gullible Nigerians https://t.co/JVLaXoZSWZ

— NANA (@ppanda_23) 1 January 2018
Just told a Buharist few hours ago, that political intimidation and suppression using government forces will be rampant.Just started!1st day https://t.co/fbRAqrfgn5

— @NEAR LO! (@GODSNEAR1) 1 January 2018
I should be expecting my own arrest then.
This definitely must stop, we are not in the military era.#freedanielelombahnow https://t.co/WxQ0F9vhvp

— tony (@obaro23) 1 January 2018
#freedanielelimbah. #stopsuppresion of Freedom of speech. https://t.co/fbRAqrfgn5

— @NEAR LO! (@GODSNEAR1) 1 January 2018
Later we will be asked to pray for Buhari's son.the person arrested is not someone's son right? https://t.co/qrfYpEKiRp

— kufreabasi ikpong (@kuffvin) 1 January 2018
I don't want to spend my 2018 criticizing. I want to focus on offering solutions but there are things I will never ignore. Things like this.

FREE Daniel Elombah and his brother now. #FreePRESS

— Adeyanju Deji 🇳🇬 (@adeyanjudeji) 1 January 2018
While I welcome him, can he explain why the notable London-based lawyer, Daniel Elombah, was arrested by SARS today  https://t.co/JF1WxGFI8r

— The Great Oracle (@AbdulMahmud01) 1 January 2018