By Theodore Opara
The planned launch of the drastically revamped, new generation Peugeot 3008 SUV by PAN Nigeria Limited very soon is expected to be a major push to the leading local auto assembly plant in the country in its quest to further expand its market share. PAN has planned to unveil the new compact SUV which is making wave in Europe. The 3008 won the European car of the year last year and has won new customers for Peugeot for its outstanding design and top class performance.
Although, prices of the model(s) storming the crowded SUV segment in Nigeria has not been made known as at the time of filing this report, sources inside PAN Nigeria Limited say, the new SUV which is well equipped with all the trappings of luxury, safety, comfort and technology will be competitively-priced compared to competition. The source's added that new Peugeot has all it takes to rule its segment, especially with its design and premium features.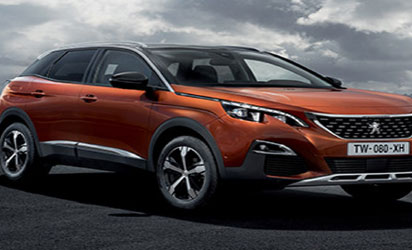 The Peugeot 3008 SUV has seen a significant upgrade on the design front, compared to its predecessor. Comparatively, the first generation sported a half-and-half look between an SUV and a multi-purpose vehicle. This generation, however, now looks like a proper crossover.
Improvements don't just stop at exterior styling, though. Inside, the 3008's high-tech cabin looks like something straight out of 'Star Trek', thanks in part to Peugeot's i-dashboard.
Its sleek exterior, futuristic cabin and several unorthodox features take it on a journey to explore uncharted territories of the Sport Utility Vehicle (SUV) segment.
Combining style, athleticism, and efficiency, the Peugeot 3008 SUV fits the exacting needs of the premium segment in the country, providing the best of all worlds to both drivers and passengers alike.
Apart from its distinctive style, it represents the brand's move towards improving efficiency while delivering an even greater power output compared to previous models," Boyi said. "This explains Peugeot's decision to match the 3008 SUV with a 1.6-liter turbocharged petrol engine.
Turbo-charging has the PSA France to create smaller engines which have better fuel consumption, more power, and significant reductions in weight, allowing for an uncompromising performance in every drive.
Regarded as a game-changer for Peugeot, the New 3008 SUV in particular boasts of groundbreaking technology and design never before seen in previous models.
Complementing the SUV's high-powered, low displacement engine is a body that is 100kg lighter than its predecessor. Combining these elements produces an optimal power-to-weight ratio that puts the vehicle ahead of its competitors.
The vehicle is lighter, yet more agile and responsive than previous generation model. This further disproves the common notion that higher displaced engines are more suitable for SUVs," he added.
Boasting of a sleek and ultra-modern exterior, the Peugeot 3008 SUV leaves an unmistakable impression on the senses as it displays character and strength. Its wide checkered grille highlights the athletic look of the vehicle, while its signature feline LED front headlamps, long bonnet, large wheels, and high ground clearance denote a confident SUV stance.
The distinct look is completed by a roof finishing that suggests an air of sophistication, as it appears to float through the aid of tasteful chrome highlights.
Inside, the driving experience is immediately amplified through Peugeot's next generation i-dashboard that has a 12.3-inch all-digital instrument panel. With its advanced ergonomics, modern display panel, and interactive touchscreen, drivers and passengers are immersed in a modern digital world.
The arrival of the New Peugeot 3008 SUV is coming barely two months after the Peugeot 301 Midlife won  Car-Of-The-Year Award 2017 in Nigeria during an annual award being organised by the Nigeria Auto Journalists Association (NAJA). It has earlier won the coveted award from NAJA the previous year.