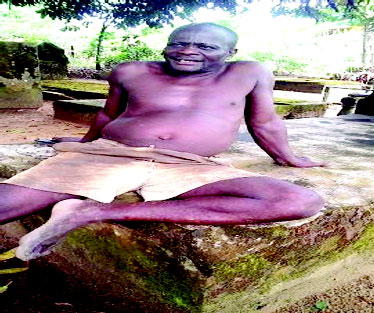 Mr. Okokon
….Says 'Stories that dead persons refuse to enter their graves, walk around graveyards're myths'
…Swears that only death'll separate me from grave digging
By Ike Uchechukwu
CALABAR- MR. Okokon Bassey, a gravedigger at Goldie Cemetery, Calabar Municipal Council, Calabar, Cross River State, since 1978, has revealed that he excavated the last resting places of a good number influential Calabar citizens.
Bassey, who spoke to NDV, at Calabar, stated that he trained four children, including a medical doctor and nurse from the toils of his labour as a gravedigger.
He declared authoritatively that any act of wickedness meted out to a dead person, especially those that steal and sell human skulls and other parts, will rebound on the wrongdoers.
I will not quit
Insisting that he would not quit the job until nature calls him, he disclosed that he ventured into the job not just because he wanted to, but that was his only ticket to getting employment at the Calabar Municipal Council at that time owing to the fact that he was not well educated..
His words: "I started the job with 19 other persons out of which 17 have died and only three of them are still alive and working together till date."
We don't sell human parts here
Debunking allegation that gravediggers at Calabar Cemetery engaged in sharp practices, he said, "Everything we do here is totally in line with the law, I or any of my colleagues have never been approached by anyone demanding to buy skull or even any other part of the remains from the grave."
"The only issue we had years back was that of hoodlums coming in to hide in this place. Anytime you hear people say things like ghost move at night at the cemetery or people sleep in the grave for rituals,   it might just be made up or they must have had help or from the people who came to bury their person.
"I say this because anything you do to a dead man will happen to you too, so for no reason will I or my colleagues sell human skulls to any one because if we do, the same thing will happen to us," he said.
According to him, "Before Eta Mbora became the Mayor of Calabar, a lot of hoodlums used to run into this place and hide when they are chased by police, but all that has changed because he put up a perimeter fence in this place and there is 24 hours patrol in this place. Even now, homeland security has increased security presence in this area, as we also make sure we clear the grass in the area "
Many phony stories about ghosts, graveyards
According to Bassey, "Most of the things you hear about graveyards , how ghosts move at night and other bizarre things are just the figment of people's imagination, they are myths,   not real."
"I only know that when I dig grave I might come across bones of people, who might have been buried for more than 10 years, but we rebury them in another place.   Apart from this, I have never seen or witnessed anything like people performing rituals."
"Sometimes you hear stories like dead people walking around in the graveyard because their death was unnatural, or you hear stories like some people refuse to go into their grave, they are just myths and they are not real," Bassey asserted.
Adding a grave has a seven-year life span before anybody can tamper with it, he said,   "Unless you buy off the space for life, which is about a N100, 000, the remains of the occupant can be relocated after seven years. That is why when we dig new grave and find bones, we only dig new shallow holes and rebury them."