By Davies Iheamnachor
PORT HARCOURT- Oil bearing communities in the embattled Ogoni ethnic nationality have floated traditional rulers council to help in the fight against their marginalization.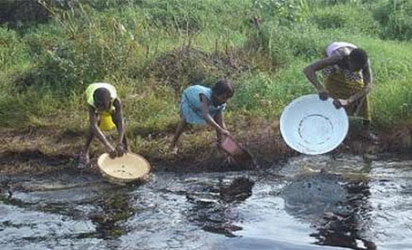 The body, Ogoni Oil Bearing Communities Traditional Rulers Council, OOBCTRC, would liaise with oil companies that intend to resume operation in the area for good relationship.
The body demanded that the 13 percent derivation meant for oil producing communities be directed to them to speed up development in their areas.
Speaking at Kegbara-Dere, Chief Donald Gberesu, the President of the body, noted that the body would stand in the gap between oil companies in the area and the host communities.
Gberesu complained that the oil producing communities of Ogoni have been abandoned in the negotiations of their oil, adding that the body would provide a front through which the voice of the communities would be heard.
Gberesu said: "The main aim of the organization is to bridge the gap between oil companies and the communities, as well as ensuring harmonious relationship between prospecting oil companies and the communities to avoid further feud.
"It is on record that our communities have suffered some neglect in the past and even now despite millions of barrels of oil, explored from our land with nothing in return.
"It is worthy to note that the organization is both non political and partisan, it is only to address challenges from oil exploration which has left the land in abject poverty, which after effect is internal wrangling and killings among us."
Meanwhile, His Royal Highness, Mene Daniel Wida, Mene Bua-Bain, stated that the body was borne out of the desire of the oil producing communities of Ogoni to front the agitations for the liberation from marginalization and development.
Wida said: "These communities feel the impact of oil exploration and its immediate effects, so needs the first attention. But it is as if other persons who are not directly impacted want to take everything from us. We need to liberate ourselves, by the grace of God we will survive."