Former Governor of Anambra State, Mr. Peter Obi, has received   the highest award by his Agulu community during the celebration of the 80th anniversary of the foundation of Agulu People's Union at St. Peter's field, Agulu on Sunday.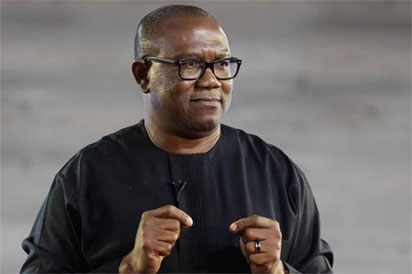 The event, which was the first in the history of Agulu, also saw Obi being the first to be enrolled in the Town's Hall of Fame.
Agulu people said politics apart, that Obi remained the person that has had the greatest positive influence on the town.
The President General of the town, Chief Andy Orakwelu, said the recognition was because of his internationally recognized stature as an astute democrat, a human capital developer and an  outstanding administrator.
Receiving the award on behalf of the former governor, who was outside the country, his former Commissioner for Housing, Dr. Patrick Obi, said the award was a testimony that despite those opposing Obi coming largely from his town and local government, that the people of Agulu are pleased with him and his accomplishments, which he described as equal to none in the state.
He encouraged the people of Agulu to see Obi for what he is and not from prisms coloured by jealousy and hate. Narrating what Obi should be to the people of the state, he used himself as an example.
In his words: "I once went for an interview and the moment the panel saw from my  resume that I worked with Obi as a commissioner, the interview ended, with the panel members agreeing that having worked with Obi at that level was enough proof of anybody's positive, hard-working and focused credentials."
Speaking to the press after the event, the Second Vice Chairman of Agulu people's Union. Chief Stephen Okeke described the award as apposite. He said that Obi was good in all ramifications and described what he called his "excellent performance as the Governor and his unequalled empowerment of the people of the   town without undue noise"   as enduring legacies worth celebrating at all times.
The event witnessed recipient of other category of lesser   awards by many others.
Chaired   by Dr. Chike   Akunyili, the   event was attended by the cream of the people of the town.