By Sola Ogundipe & Gabriel Olawale
LASSA fever is on the rampage again in Nigeria, but there are simple steps that can be taken to prevent infection. Last week, the Nigeria Centre for Disease Control, NCDC, confirmed 16 deaths in less than one month from Lassa fever outbreak in 10 states.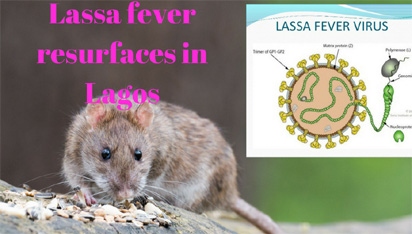 The Chief Executive Officer of NCDC, Dr. Chikwe Ihekweazu, disclosed that since the beginning of 2018, a total of 107 suspected cases were recorded in Edo, Ondo, Bauchi, Nasarawa, Ebonyi, Anambra, Benue, Kogi, Imo and Lagos states with 61 confirmed cases.
Ihekweazu explained that following the increasing number of Lassa fever cases reported from several states across the country, the NCDC reactivated its Emergency Operations Centre,EOC to coordinate the response to the outbreak on behalf of the Federal Ministry of Health.
"The EOC has deployed Rapid Response Teams to the most affected states which includes Ebonyi, Ondo and Edo states. "The RRTs are supporting the states in response coordination, contact tracing, case management, risk communication and strengthening infection prevention and control practices. Emergency supplies have also been sent to treatment centres in all affected states.
Contaminatedhousehold items
He said the NCDC is collaborating with the World Health Organisation (WHO), Federal Ministry of Agriculture and Rural Development, Irrua Specialist Teaching Hospital, African Field Epidemiology Network, US Centers for Disease Control, and other agencies, in supporting the response in the affected states.
What it is: Lassa fever is a viral haemorrhagic illness, caused by contact with food or household items contaminated with rodent urine or faeces. It is an epidemic prone disease. Just a single case is already an epidemic. The Lassa virus can be spread between humans through direct contact with blood, urine, faeces, or other bodily secretions of a person infected with Lassa fever.
Symptoms: The illness is characterized by sudden onset of fever, and general weakness. Other symptoms including headache, sore throat, muscle pain, chest pain, nausea, vomiting, diarrhoea, cough, and abdominal pain may follow. In the most severe cases, individuals may bleed from the mouth, nose, eyes or other parts of the body.
Treatment/observation Confirmed patients are managed with the drug Rivabirin and good hospital care. Once there is a case, history is taken to find out if the person has been out of the state or not. Such information is crucial in assisting epidemiologists about notification of the disease outbreak. All persons that have had contact with Lassa fever patients are traced and placed under observation.
Each contact is given a thermometer to monitor his/her body temperature and can go about normal business. Anyone that presents with high temperature is moved to the isolation ward. The virus becomes infectious as soon as fever develops.
Prevention: Although there is no vaccine currently available for Lassa fever, the disease can be prevented and is treatable. Get the facts. Get the factual and correct information on Lassa fever from social media, radio, television and newspapers. Be knowledgeable about how to respond to outbreaks. This helps minimise fear.
Hand hygiene: Hand washing should be practiced frequently. A good preventive habit against Lassa fever is to embrace healthy living. Lassa fever is strongly linked to poor hygiene and sanitation. Outbreaks often emphasise the essence of hand hygiene in the prevention of diseases. Proper and regular hand washing is essential for everybody.  While it may not be possible to eradicate Lassa fever, it is important to keep it under control.
Rat control: Rats breed in filthy and untidy environment, so a clean environment is not conducive for breeding of rats. Discourage presence of rats and rodents in the household as much as possible. Store food in rodent-proof containers and use dustbins and refuse containers with covers. Garbage should be disposed properly and far from the home.
Food hygiene & storage: Avoid consuming raw grains. Cook all grains well before consumption. Safer methods should be adopted for food processing and storage. Farmers in rural communities need to avoid sun-drying farm produce on bare ground and/or road sides as these are opportunities for rodents to perch on these products that will eventually be processed into food.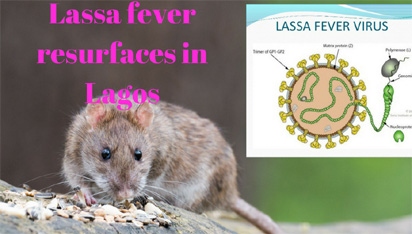 Early reporting:  If you encounter or observe fevers that are not responding to anti-malarial and antibiotics, or fever associated with sore throats or bleeding, report promptly to the local government health officers.
Notification: It is very important to report to a health facility for early initiation of treatment. Lassa fever should be suspected where common causes of fever, like malaria have been ruled out. Health care workers are advised to practice universal care precautions while handling patients at all times, not just when Lassa fever is suspected.  Every health worker should think about Lassa fever and have a high index of suspicion.
In addition, states are encouraged to ensure safe and dignified burial practices for patients who die from Lassa fever. The National Guidelines For Infection Prevention and Control, as well as Lassa fever case management have been developed, disseminated to States and are available on the NCDC website for download via (http://ncdc.gov.ng/diseases/guidelines) or contact NCDC Toll-free Number: 0800-970000-10, SMS: 08099555577 or Twitter/Facebook: @NCDCgov.