By Udeme AKPAN
Massive fuel importation to continue
Subsidy payment to last till 2019
FG, others bank on modular plants, $12bn Dangote refinery
AS a leading oil and gas producer with about 2.5 million barrels per day capacity and four refineries with installed 445,000 barrels per day capacity, importing petroleum products to Nigeria should have been like taking coal to Newcastle in the United States of America.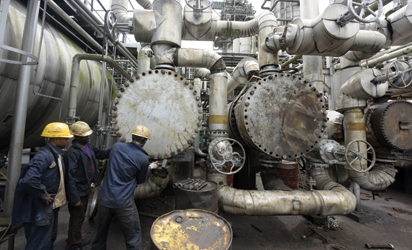 But it is not so at the moment. Nigeria that also has commercial natural gas reserves cannot survive without massive importation of petroleum products for some reasons. First, many of its domestic refineries located in Port Harcourt, Rivers State; Warri, Delta State; and Kaduna, Kaduna State, are old and very poorly maintained.
Second, attempts by successive governments to construct or get private investors establish modern refineries have not been successful. Third, the rapid expansion in population and increase in economic activities have also encouraged rapid increase in the utilisation of energy resources, especially petroleum products.
Consequently, the nation has been compelled to import much petroleum products from the international market at the detriment of nation's scarce foreign exchange. For instance, NNPC recently indicated in a statement that: "For the umpteenth time, NNPC assures Nigerians to remain calm and not to engage in panic buying, as the end of the hiccup has come. Appropriate sanctions, by the security agencies working together with industry regulators, await any marketers that may risk engaging in hoarding. The six major marketers that recently received consignments of NNPC petrol imports and are trucking them round the clock to all parts of the country are: Total, Forte Oil, Oando Plc, MRS, 11 Plc and Nipco Plc.
"The supplies are mostly from cargoes of PMS imported to by NNPC, which are daily berthing and immediately being made to discharge their products to stem the supply hiccups. The imported products are also being supplemented by supplies from the local refineries.
"Earlier in the week, NNPC GMD, Dr. Maikanti Baru, had stated that the corporation's one billion litres PMS cargo imports had started to arrive, saying supplies to parts of the country had been doubled to 80 million litres per day since the current hiccup in the supply chain was noticed a few days back."
The massive importation has not come without a huge subsidy implication. Investigations by Sweetcrude showed that while the nation's subsidy burden dropped to a zero level in times of low crude oil price, such also hit the roofs whenever oil price rises in excess of about $50 per barrel. Take October, 2017 as an example. There were indications that the Federal Government started to incur N586 million daily as fuel subsidy following the rise in crude oil price from $49 to $58 per barrel in the international market between August and October. Investigations by Vanguard showed then that unlike in last August when refinery owners sourced their oil at $49 per barrel, the development forced refiners to incurred additional cost which they passed on to importers, especially Nigeria that depends mainly on imported fuel to meet domestic demand.
Sweetcrude survey of major markets around the world showed that marketers started to experienced under recovery, meaning they got less than their cost of importing the product. For instance, the refinery cost of fuel at the United States Gulf Coast was put at $1.64 per gallon, which amounted to N135.19 per litre at the current official exchange rate of N305 per dollar.
While it cost $1.70 per gallon, amounting to N140.14 per litre at the New York Harbour, it also cost $550 per tonne, amounting to N125.05 per litre at Rotterdam based on the nation's N305 to a dollar exchange rate. Investigations also showed that traders incur other costs such as littering expenses (N4.56 per litre), NPA charges (N0.84k), NIMASA (N0.22k), Financing (N2.57k), Retailers margins (N6.0), transportation cost (N3.36), Dealers margin (N2.36), bridging fund (N6.20), administrative charge (N0.30k) and marine transport average (N0.15k), amounting to N26.56 per litre.
This showed that the total cost of importing fuel from the global market then ranged between N150 and N161.75 per litre, depending on location of the market, thus culminating in an under recovery of N16.75 per litre. Consequently, the government's subsidy amounted to N586 million as a bulk of the estimated 35 million litres per day national demand is imported from the global market.
Current subsidy to last till 2019
There are indications that the level of Nigeria's subsidy on imported fuel has increased following the rising of crude oil price from over $58 to $67 per barrel in the global market. This will likely remain unchanged for a long time, especially as the Organisation of Petroleum Exporting Countries; OPEC has predicted improvement in global oil market stability in the coming months.
It stated that: "The Joint OPEC-Non-OPEC Ministerial Monitoring Committee (JMMC) stated that, based on the Report of the Joint OPEC-Non-OPEC Technical Committee (JTC) for the Month of November 2017, OPEC and participating Non-OPEC producing countries have shown highest level of conformity with their respective adjustments in production.
"The JMMC was established following OPEC's 171st Ministerial Conference Decision of 30 November 2016, and the subsequent Declaration of Cooperation made at the joint OPEC-Non-OPEC Producing Countries' Ministerial Meeting held on 10 December 2016 at which 11 (now 10) non-OPEC oil producing countries cooperated with the 13 (now 14) OPEC Member Countries in an effort to accelerate the stabilization of the global oil market through voluntary adjustments in total oil production of around 1.8 million barrels per day.
"The resulting framework, which came into effect on 1 January 2017, was for six months. The second joint OPEC-Non-OPEC Producing Countries' Ministerial Meeting, held on 25 May 2017, decided to extend the voluntary production adjustments for another nine months commencing 1 July 2017. During its third meeting held in Vienna on 30 November 2017, the joint OPEC-Non-OPEC Producing Countries' Ministers agreed to amend the Declaration of Cooperation so that it will last the entirety of 2018."
Modular plants, Dangote refinery
Sadly, the subsidy will likely live with Nigeria and Nigerians till 2019 when some modular plants and the $12 billion Dangote refinery are expected to come on stream.
Kachikwu, who visited the Dangote Oil Refinery site at Lekki Free Trade Zone, in Lagos, had stated that: "It is good to say that private sector is the answer to Nigerian's problems with a project as big as this. The challenge I will give you today is that of time, I see your time for completion is 2019 December but I am sure you will understand my greed if I tell you that the refinery component of this project should come earlier than the set date.
"I have made very firm commitment to Nigerians that I must stop the importation of petroleum products by 2019 and I am going to keep to it. It is absolutely important that we do this early and given the feat that we have achieved in terms of speed of construction, I urge you to do all within you to achieve its completion before the due date.
"I am sure His Excellency, President Muhammadu Buhari, will be absolutely enthused if he were to find himself, not only crystalising the policy position we have taken so far but also coming here himself to open a facility as big as this before the end of his first term. Whatever configurations your engineers have come up with, I urge that they go back to the drawing board and get me my refined products before your said date."
Responding, Mr. Aliko Dangote, President of Dangote Group, had said: "On the honourable minister's challenge, we are going to make it by the grace of God. I am sure the minister will support us to make sure that we meet his challenge. What the minister is trying to do is the best so far for our country. His version is that Nigeria should not think of exporting crude. You know the problem we have in Africa is that we only export raw materials, not finished goods. So he is saying that, look, we should all do this by adding value and I pray that even at 2.5 million barrels, we should not export much, in terms of the crude.
"We will go back and see what to do to make this happen by fast tracking our processes since the Minister has assured of government's cooperation and support. We will be adding value to our economy as all these projects will be creating about 4,000 direct and 145,000 indirect jobs. We will also save over $7.5 billion for Nigeria annually, through import substitution and generate an additional $5.5 billion per annum through exports of the refined petroleum products, fertilizer and petrochemicals. We envisage that these projects, which would cost over $18 billion, would be completed in 2019."