By Emman Ovuakporie
ABUJA—Executive Secretary of Pension Transitional Administration Directorate, PTAD, Sharon Ikeazor, Thursday, said N38 billion was required to pay outstanding 33 per cent pension arrears to 238,533 retirees.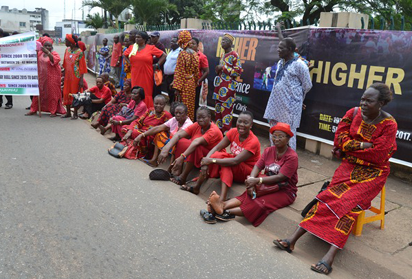 The Executive Secretary revealed this during the 2017/2018 budget defence held at the instance of House Committee on Pensions chaired by Hassan Shekarau.
Ikeazor told the lawmakers that the directorate also received N16 billion assets and money as Legacy Fund from some insurance companies out of N25 billion.
She added that the directorate opened a recovery account with Central Bank of Nigeria, CBN, under the Treasury Single Account, TSA, where the Insurance companies were expected to remit the Legacy Fund.
It would be recalled that NICON Insurance transferred N13 billion worth of assets to the directorate, while the directorate recovered N5.6 billion from Leadway Assurance Limited, Custodian Life Assurance Limited, LASACO Assurance Plc and African Alliance Insurance Plc over the last two years.
She also disclosed that fraudulent family members of dead pensioners are collecting their pension payments from the Directorate.
According to her, family members withdraw the monthly pension payments of dead kins  for about two years before the Directorate detected at the point of renewal of the ATM cards.
In a bid to stem such practices, she unveiled plans for issuance of biometrics cards called 'I am alive status', stressing that government is "losing so much to those families by not letting us know they are dead."She explained that the Directorate is working on Master Card to achieve this, adding that plans are also underway to deploy POS machines to various parts of the country as part of efforts geared toward ensuring easy access to pension allowances.Ikeazor however said that a total of N38 billion was owed the Police was N1.6 billion, Civil Service was N6.1 billion and Parastatals   N30.1 billion.
"The quantum of liabilities comprised of the   arrears of   33 percent pension increment which the federal government approved in July, 2010, but the implementation of which did not start until  42 months later  in January 2014.
"There was also the outstanding death benefits   of Next- of-Kins as well as the arrears owed to pensioners who were arbitrarily removed from payroll under the previous dispensation."
She also disclosed plans to commence verification of NITEL and MTEL pensioners as from  15th January 2018, starting with Enugu, Port Harcourt and Lagos in the first phase while Kano, Gombe and Abuja will be carried out in the second phase.
The chairman and members of the committee applauded the Organisation for turning around pension administration and payment.