By Esther Onyegbula
The Lagos State Police Command is currently investigating the murder of a 28-year-old woman identified as Ajoke, who was reportedly murdered by her husband, Edgar.
It was learned that the mother of three was strangled and buried beside a well on December 14, 2017 in Mowo along Badagry Expressway.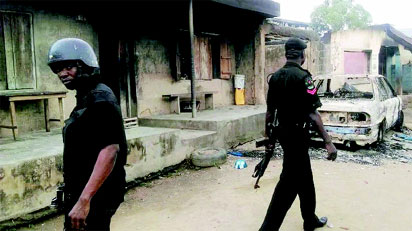 A family member of the deceased, who spoke on condition of anonymity, said: "We didn't know when the incident happened, because he buried her immediately after strangling her.
"It was after the incident that we realised she was missing. That was when we started searching for her and discovered her corpse buried beside a well few streets away from their house.
"Ajoke had been a victim of domestic violence. She had suffered so much in the hands of her husband. She obviously continued to live with her husband because of the children. Unfortunately, he has finally killed her.
"Since the incident, her husband has disappeared. And all efforts to apprehend Edgar have been unfruitful."
Vanguard gathered that the case was reported to the Baale of Mowo, Badagry, before it was transferred to the State Police Command, Ikeja, for further investigation.
The father of the victim, Mr. Atewologun Kalejaiye, has called on Lagos State government to investigate the case and ensure that the culprit is brought to book.