Med-View Airline on Monday announced the suspension of its operations to Dubai till March 25.
The Chief Executive Officer of the airline, Alhaji Muneer Bankole made the announcement at a media briefing in Lagos.
Bankole explained that the suspension was to enable the airline sort out issues with its partners, Euro Atlantic, over leasing of aircraft for its operations.
He said the airline would resume its Dubai operations when its own aircraft, B767-300ER, christened `Abeke' returns from complete refurbishment in the United Kingdom.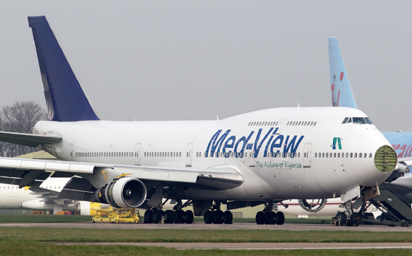 The airline boss promised that its passengers who had booked Dubai flight would be flown to their destination through interline arrangements.
Bankole further explained that the airline had issues with its European partners over aircraft it leased from them.
"From all indications, this aircraft has not been able to meet our requirement in providing the necessary capacity.
"The UK Civil Aviation Authority has been supportive of our efforts when it dawned on them that the issues had to do with aircraft.
"Consequently, we have taken some measures to our Lagos-London route which will now be serviced by an alternative aircraft currently in operation,'' he said.
Bankole noted that the airline would also maintain its three weekly flights on the London- Gatwick.
He said it would continue on its Jeddah schedule every Thursday through Kano until the issue of biometric, which was now a requirement, was resolved.
According to him, on the West Coast, the airline is currently operating on Tuesdays and Saturdays to Anglophone countries, and Mondays and Fridays to Francophone countries.
Bankole thanked airline passengers who stood by them throughout this period.
NAN