By Nwabueze Okonkwo
ONITSHA—THE Movement for the Actualisation of the Sovereign State of Biafra, MASSOB, has berated the All Progressives Congress; APC-led Federal Government for its alleged failure to provide security for Nigerians, which has resulted to wanton killing of innocent people across the country.
MASSOB, as led by Comrade Uchenna Madu in a statement by its National Director of Information, Comrade Edeson Samuel, alleged that the present APC led Federal Government has engaged in selective injustice and justice against and for different ethnic groups in Nigeria, since its inception and that accounts for the continued killings by the herdsmen in Nigeria.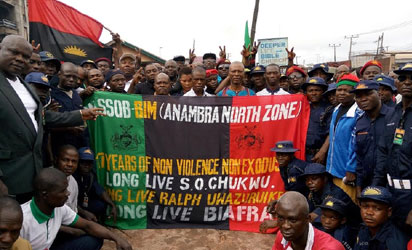 Condemning the alleged killing of people of Benue State by the Fulani herdsmen, MASSOB described as unfortunate the alleged inability of the federal government  to provide security in the country, describing the activities of the herdsmen as more terrorist in nature than the activities being classified as terrorism in Nigeria.
"MASSOB, under the leadership of Comrade Uchenna Madu wishes to condemn the killing of people in Benue State by a terrorist group called Fulani herdsmen. It is unfortunate that the APC led federal government  has failed to provide security for her citizens. MASSOB commiserates with the people of Benue State and prays God to accept the souls of the victims who were murdered by the herdsmen.
"The killing of people in various parts of Nigeria particularly, in Benue state will not stop until the present  government in Nigeria stops the selective injustice and justice it is giving its citizens.What this APC government is doing is selecting a section of the country and the people it will visit with injustice and those it will visit with justice and undue protection.
"MASSOB is therefore, calling on indigenes of Benue state to rise up and defend their God given land. The Idomas, Tivs, Igalas and all the ethnics groups in Benue State must understand that their destiny is in their hands". MASSOB is also calling on other states in the South West of Oduduwa and South East of Biafrans, to be vigilant because this terrorist group has perfected their plans to attack  major  cities in South West, South East and South South."
According to MASSOB, "we have no doubt that this is the master plan by the present APC led government to turn Nigeria to Islamic country, Christians be vigilant and defend themselves from the blood thirsty herdsmen that have no human feelings. MASSOB also wishes to remind the people of Middle Belt region that Biafrans are their brothers and will always stand by them.
"Until the people of Middle Belt understand and solidly stand for their inalienable rights of political, cultural, religious and economical emancipation, from Hausa Fulani domination, their future generation will continue to experience more devastated phenomena than this present onslaught against them by the Fulani terrorist herdsmen."