Prof. James Ibrahim, a Professor of Diplomatic History with Kaduna State University (KASU), on Tuesday accused President Donald Trump of promoting politics of hate which has deeply divided the United States.
James made the assertion in Kaduna at the opening of a Breakfast Discourse tagged, "Donald Trump Dystopian Presidency" organised by History Department of the university.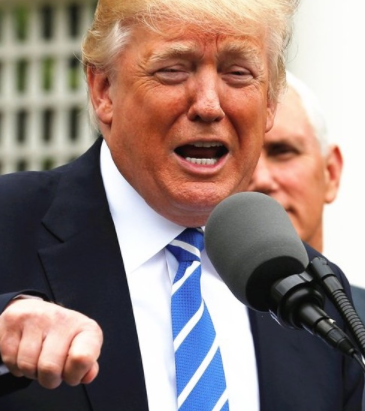 The lecturer, who chaired the event, claimed that Trump has introduced politics of hate through his racial segregationist policies that have completely divided the country.
"The White House under Trump has completely turned white. This is very unfortunate for a country that championed the course of democracy and liberty.
"America is in the state of civil war with protests from every quarter of non white Americans, challenging Trump's policies," James asserted.
Also, head of the History department, Dr Terhemba Wuam, described Trump as a divisive figure leading the country into a dystopian state.
Wuam stressed that the U. S president has not only divided Americans along racial lines, but was also increasingly "dangerous" world, because of his policies which were against global partnership.
"He has pulled out of Paris Accord on Climate Change, single-handedly recognised Jerusalem as capital of Israel, and he is against global partnership to end poverty."
He advised Africa and other third world countries to look inward to champion the course of their development and not rely on America's Trump.
Similarly, Dr Usman Mohammed of the Political Science Department of the university said the Trump presidency was building walls across the globe instead of bridges of peace.
"He put America first everywhere he goes and called Muslim countries terrorists and third world countries parasites, and has continued to build walls instead of bridges.
"His message is hate, hate and hate. This is against the tenets of freedom, equal opportunity and liberty that America was known for."
However, Mr Danjuma Joshua of the History department said that Trump was doing exactly what Americans voted him to do.
According to him, Africa would be a better place with people like Trump as leaders.
"Right from campaign period, Trump has made it very clear that he will put America first and that is exactly what he is doing."
NAN