AS Henry Longfellow once said "Lives of great men all remind us, we can make our lives sublime, and, departing, leave behind us, footprints on the sands of time". These words aptly encapsulate what King Sunny Ade, born Sunday Adeniyi, 71 years ago, in Ondo State, means to the music world, not only in Nigeria but all over the world.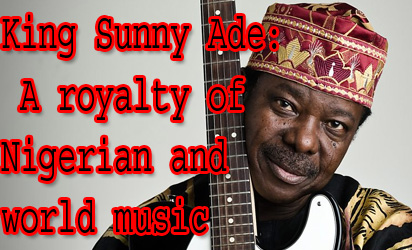 According to the Wikipaedia, he is described as "a Nigerian musician, singer-songwriter, multi-instrumentalist, and a pioneer of modern world music. He has been classed as one of the most influential musicians of all time."
'King' Sunny Ade enjoyed noble status not only through birth into the Yoruba royalty of southwestern Nigeria but also through popular acclaim as the "King of Juju" since the late 1970s. In his youth Sunny played highlife, a type of urban dance music that was popular in the late 19th century and blended elements of church music, military brass-band music, sea shanties, and various local African traditions. In the mid-1960s Sunny abandoned highlife for juju, a related musical genre that was ruling the Nigerian music space since 1920s among urban Yoruba working class. He assembled his own juju band, the Green Spots, which he later renamed the African Beats, reflecting the re-Africanization of the genre that had been occurring since the early 1950s in conjunction with a growing sense of nationalism.
Sunny Ade's early albums with the African Beats include Sound Vibration in 1977 and Royal Sound in 1979 and they were hugely successful, prompting the press to declare him the King of Juju music in 1977. The title has since become integral to his professional persona.
In the early 1980s Sunny signed with Island Record and the release of Juju Music, 1982, propelled him and juju into the international limelight. His next album, Synchro System in 1983, was equally successful and earned him his first Grammy award nomination in the ethnic/traditional folk recording category, hence making him the first Nigerian Grammy award nominee ever.
After separation from Island Records, Sunny formed a partnership with Mesa Records, a division of Paradise Group in America, which resulted in the release of another three albums. One of these albums was 1988's Odu, for which he was nominated for the second Grammy award and thus making him the first African to be nominated twice for a Grammy. Sunny has collaborated with major artists such as Manu Dibango, Stevie Wonder, Onyeka Onwenu, Wasiu Alabi Pasuma and most recently, Wizkid, among others. Sunny Adé's brief recordings with Island Records opened the floodgates for other world music artists like Senegalese Youssou N'Dour, Salif Keita and many others.
In spite of the domination of the Nigerian music space by hip hop music and the younger generation of singers, King Sunny Ade continues to be relevant and his music influence has found disciples among many of them.
Outstanding  contribution
This is most evident during the celebration of his 70th birthday in 2016 where there was a pantheon of new generation of singers on call to honour the music icon.
In 2008, his contributions to world music was recognised; as he was given an award for his outstanding contribution to world music at the International Reggae and World Music Awards held at the Appollo Theatre in Harlem, New York.
Background: King Sunny Adé was born in Osogbo to an Ondo royal family. His father was a church organist, while his mother was a trader from Akure. Sunny Ade left a secondary school in Ondo under the guise of going to the University of Lagos. There, in Lagos, his mercurial musical career started.
Sunny Adé's musical sound has evolved from the early days. His career began with Moses Olaiya, popularly known as Baba Sala under Federal Rhythm Dandies, a highlife band. He left to form a new band, The Green Spots, in 1967. Over the years, for various reasons ranging from changes in his music to business concerns, Sunny Adé's band changed its name several times, first to African Beats and then to Golden Mercury.
King Sunny Ade reminisced about how Baba Sala charted the course of his musical journey in a recent popular interview with Vanguard newspaper thus: "Let me say that Baba Sala is my boss and he will continue to be my boss for life. I never planned to be a band leader but he gave me the opportunity for the talent to develop.
"I was a little boy, playing percussion in his band. He was a musician, playing guitar, Iya Ilu (talking drum) and accordion. At that time, we were playing I.K. Dairo kind of music and I was the youngest. When he formed the drama side he asked me to go to the drama group in order to see to the music side of it.
"So, I was in charge of music for his drama sector. Along the line I started playing Konga, Shekere and other instruments. After a while he transferred me back to the band. It was through Baba Sala and his friend, Chief Tunde Amuwo that I became a band leader."
He founded the King Sunny Ade Foundation, an organization that includes a performing arts centre, a state of the art recording studio, and housing for young musicians. He is a visiting lecturer at the Obafemi Awolowo University Ile-Ife and recipient of the national honour of Member of the Order of the Federal Republic. When he celebrated his 70th birthday in 2016, it was officially his fifty years on stage as a musician.
Awards and recognitions
King Sunny Ade is arguably the most decorated Nigerian musician ever. His two Grammy award nominations and the King of World Music award by International Reggae and World Music Award stands him out as first among equals.
In July of 2009 King Sunny Adé was inducted into the Afro pop Hall of Fame, at the Brooklyn African Festival in the United States where he dedicated the award to the late Michael Jackson. In the same year, he was appointed a visiting professor of music at the Obafemi Awolowo University, Ile-Ife. In November 2016 he became a recipient of the AFRIMA award. In December 2016 he was inducted into Hard Rock Cafe hall of fame.
In December of 2016 as part of activities marking his 70th birthday, KSA's famous guitars masterfully painted by award-winning artist, Victor Ehikhamenor were auctioned for N52 million within 15 minutes. In March 2017, he was appointed as the "Change Begins With Me" campaign ambassador by the Nigerian minister of Information Lai Mohammed.