By Simon Ebegbulem
BENIN—GOVERNOR Godwin Obaseki of Edo State, yesterday, insisted his government would utilize the state resources for the good of the people rather than share to some selected individuals, reiterating that there was no longer free money to share in Nigeria.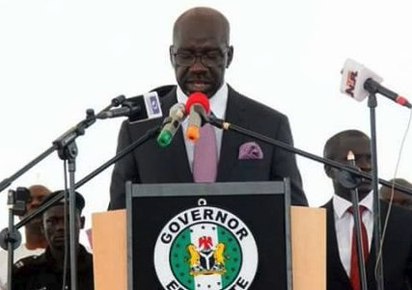 The governor spoke during a New Year service at St. Andrew's Cathedral in Eguare-Ekpoma, Edo State, which he attended with his wife, Betsy, and some members of the Executive Council.
According to Obaseki: "Between 1979 and 1983 when President Shehu Shagari held the helm of governance in the country, the total earnings of Nigeria amounted to about $100 billion within the four years¨, noting that this amounted to about $25 billion annual earning, when the country's population was less than 100 million people.
He said: "So we have to do things differently. If we don't change our approach to governance urgently, we will perish. When people come to political office holders and say give me something without the intention of creating equivalent value, that attitude is a recipe for socio-economic catastrophe. There is no free money anymore in Nigeria today. God will not bless me if I distribute the funds that belong to everybody to just a few people. I will not do it. The money we earn as government is meant for the service of our people. When I build the market road where this church is located, everybody will use it and benefit from it.
"But if I have to share the fund meant to construct this road to everybody, how much will get to the people? It is, therefore, the right thing to do before God to deploy the people's resources to the development of infrastructure and provision of services for everyone, and not a select few."
Obaseki, who noted that there was still hope for Nigeria and Edo State due to the availability of abundant resources, stressed that all that was needed was a committed government to channel the energies of the people and efficiently manage the material resources to take the people to where they ought to be."
In his sermon, the Archbishop of Bendel Province, the Most Reverend Dr.  Friday  John Imaekhai, commended the Governor for his integrity, noting that the governor was not only sincere, but committed to improving the condition of the people.