COME Thursday, January 11, 2018, a historic event will take place in Enugu, the capital of the defunct Eastern Region. Tagged: "Handshake Across the Niger", it will be the coming together of the Igbo and Yoruba leaders of thought in a bid to create a common platform of understanding, brotherhood and cooperation which will ultimately strengthen the unity of Nigeria and promote its rapid development.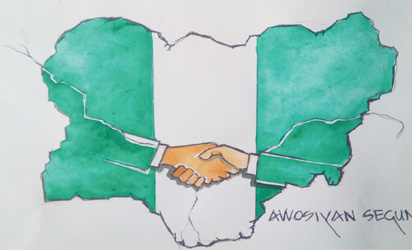 The leadership of Yoruba Afenifere led by Pa Reuben Fasoranti and Ohanaeze Ndi Igbo headed by Dr. Nnia Nwodo will congregate under the fatherly watch of two of Nigeria's most prestigious traditional rulers, the Obi of Onitsha, His Royal Majesty, Igwe Nnaemeka Achebe and the Ooni of Ife, His Imperial Majesty, Oba Adeyeye Enitan Ogunwusi. All the five governors of the South East Zone are also expected at the venue.
The event is to commemorate the friendship of two illustrious sons of Nigeria, the late General Johnson Thomas Aguiyi-Ironsi and the late Colonel Adekunle Fajuyi. Fajuyi, the Military Governor of the defunct Western Region, who was killed along with Ironsi by the counter-coup plotters on July 29, 1966 because he (Fajuyi) refused to give up his Head of State, Ironsi, to disloyal military officers while Ironsi was on an official visit to him at the Government House in Ibadan.
This would be a second attempt at a handshake across the Niger. Between the late 1980s and early 1990s, the Council for Unity and Understanding, CUU, which later transformed into the National Democratic Coalition, NADECO, in 1994, was formed by retired Commodore Okoh Ebitu Ukiwe, Retired Major General RA Adebayo, Chief Anthony Enahoro and later joined up with leaders of the Middle Belt Forum such as retired Lt-General TY Danjuma and retired Air Commodore Dan Suleiman. But the effort did not survive beyond Chief Moshood Abiola's struggle to reclaim his annulled presidential mandate under the General Sani Abacha regime.
The necessity for this handshake cannot be over-emphasised in view of the mutual hatred and suspicion that have governed relationships between the Yoruba and Igbo ethnic groups, especially in the social media over age-old and contemporary political differences. It is a great irony that the two groups, which share so many things in common and have no serious track record of spilling each other's blood, cannot see eye to eye, close ranks and strengthen the position of Southern Nigeria at the national roundtable. Meanwhile, the North has always worked together as one Region, which is why it is politically predominant.
We call on the promoters of the Handshake project to carry the South-South along and present a common Southern front to foster genuine national unity through more equitable determination of the various national questions. There will be challenges, but they can be surmounted with iron determination by all concerned. Let the Handshake begin.