By Dapo Akinrefon
LAGOS—The one-day summit of the Igbo and Yoruba with the prospect of reshaping age-long mistrust between the two dominant Southern ethnic groups holds today in Enugu.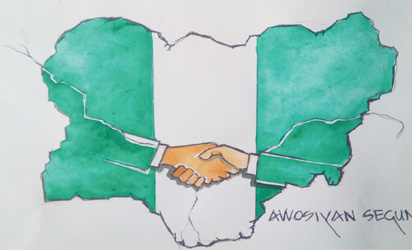 The summit, which is being co-hosted by the apex socio-cultural Yoruba group, Afenifere and the apex socio-cultural Igbo group, Ohanaeze Ndigbo, is to prospect how the two groups could build on issues they hold in common towards redressing perceived frailties in the polity.
One issue that is likely to come out strongly today is the issue of restructuring.
Speaking ahead of the conference, yesterday, chairman of the Publicity Committee, Handshake Across the Niger Initiative, Mr Yinka Odumakin, expressed confidence that the event will reverberate across the country.
However, on the eve of the conference, Governor David Umahi of Ebonyi State said, yesterday, that Ebonyi State would not be part of the conference because neither he nor any prominent stakeholder from the state was involved in the planning of the summit.
His assertions, nonetheless, support for the summit has come from the South-South geopolitical zone, which is also sending representations to the summit.
Odumakin told Vanguard, yesterday, that traditional and political leaders, including the Obi of Onitsha and Ooni of Ife will grace the occasion.
Speaking with Vanguard, Odumakin said invitations have been extended to the leadership of the All Progressives Congress, APC, and the Peoples Democratic Party, PDP.
He said: "We are expecting leaders across the zones, from Yoruba and Igbo lands. A large contingent from the South-South is coming; delegates from the Middle Belt and the North-West are also coming. In short, Nigeria is converging in Enugu today and it is going to be the biggest event this year as leaders from across Nigeria will be in Enugu today.
"Invitations have been extended far and wide. We expect leading traditional rulers like the Obi of Onitsha, the Ooni of Ife and political leaders from both side of the divide and every part of Nigeria."
Ebonyi gov pulls state out of conference
Giving reasons for his decision to opt out of the conference, Governor Umahi, while receiving a delegation of the organisers said it was because the organisers left out the people of the state from the plans for the summit.
The governor, while receiving the Igbo awareness group, Nzukor Umunna, frowned that no  "notable Ebonyi person" is in the committee organising the event.
He said he received the Nzukor Umunna group essentially because of the respect he has for the leader of the group, Chief Ifeanyi Ubah, Managing Director of Capital Oil Limited.
S-South fully involved — Ewa-Henshaw
The governor's assertions, nonetheless, support for the conference came from the immediate past chairman of the Niger Delta Development Commission, NDDC, Senator Bassey Ewa-Henshaw, who told Vanguard, yesterday, that the South-South would also be attending the conference.
Welcoming the initiative, Ewa-Henshaw said: "it is an attempt to unify the country, especially the South; it is an effort that any reasonable person will support to make sure that we build on the unity of the country, especially that of the South so that bridges of cooperation and understanding and oneness among the different ethnic nationalities will be built."
Subscribe for latest Videos