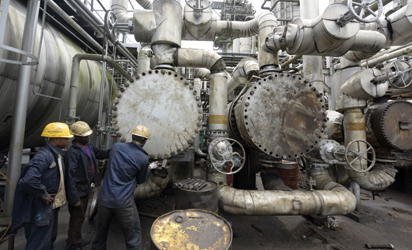 A picture taken on September 16, 2015 shows workers trying to tie a pipe of the first refinery in Nigeria, which was built in 1965 in oil rich Port Harcourt, Rivers State. The Port Harcourt refinery is Nigeria's oldest, built in 1965, nine years after crude was first found under the marshy soil and creeks of the delta, where the Niger river meanders to the Gulf of Guinea. Refineries in nearby Warri and Kaduna in the north central region were built in the years that followed, while a new plant was added to the same site in Port Harcourt in 1989. In recent years, however, it became a byword for corruption, a murky, state-run body where billions of dollars in revenue apparently disappeared. AFP PHOTO
Dr Titus Okunronmu, a former Director, Budgetary Department, Central Bank of Nigeria (CBN), on Monday, advised the Federal Government to repair all the four refineries in the country.
Okunronmu told the Newsmen in Ota, Ogun, that the revamping of the nation's refineries would increase domestic supply and end current scarcity of petroleum products.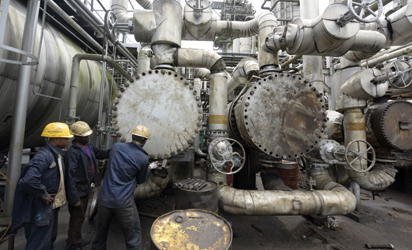 According to him, the government will also earn foreign exchange from the importation of  refined products if the refineries are working at optimal level.
"By earning foreign exchange from importation of its refined products, the Federal Government would be able to diversify the economy effectively and create jobs for unemployed youths,'' he said.
He also urged the government to halt export of crude oil so as to reduce borrowing and pressure on the nation's currency