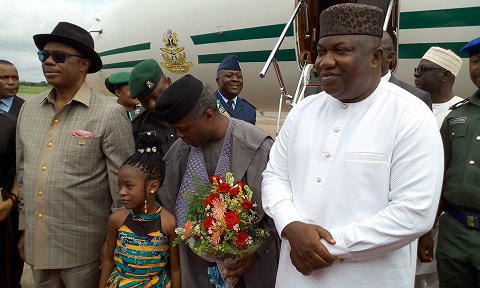 Osinbajo in Enugu en rout Anambra, received by Governor Ifeanyi Ugwuanyi
The Enugu State Science, Technical and Vocational Schools Management Board says it will soon introduce "Pay As You Work" model in payment of salaries to teachers in its employ.

The Chairman of the Board, Mr Obi Kama, disclosed this on Thursday when he paid an unscheduled visit to three technical schools in Agwu Educational Zone, to monitor resumption of schools.
Kama, who arrived at the Technical School, Amoli in Agwu LGA in at about 8:15a.m., expressed shock when he discovered that no teacher including the school principal had resumed for work.
He warned that the board would not hesitate to deal decisively with any erring teacher when it deploys technological devices to monitor resumption and closing of work of teachers in the board's supervised schools.
"We are trying to adopt a system where we pay as you work. I am sure that we will start implementing this modality in earnest by this month.
"When it starts, every teacher will know that they need to work before they are paid.
"So these are steps we are taking to check the problem of late coming and teacher's attitude to work. I am sure if we start it, everybody will sit up, especially the teachers,'' he said.
Kama, however, advised students to shun acts capable of jeopardising their future "as their actions today have great impact on what they will become in future.''
He assured that the state government under the leadership of Gov. Ifeanyi Ugwuanyi would continue to make quality education a priority for the state's citizens.
The chairman also disclosed that the board would embark on massive sensitisation of people to draw attention to the importance of science and technical education as a veritable tool to fight unemployment.
"If attention is given to science and technical education, it will reduce drastically the incidences of unemployment.
"We will be able to churn out students who will be self-employed and who will probably employ other people and thereby reduce unemployment both in the state and country,'' he said.
Others members of the board, who accompanied the chairman, included Board's Secretary, Mrs Meg Ogbonna as well as Mrs Pat Uzoigwe, Mrs Grace Okenwani and Mr Ben Ukwu, who are all board members.