By Dennis Udoma & Harris-Okon Emmanuel
UYO—Governor Udom Emmanuel of Akwa Ibom State has reacted to criticisms by the Senate Minority Leader, Senator Godswill Akpabio,  warning that, the peace and security enjoyed in the state by the people will not be compromised irrespective of anybody's status.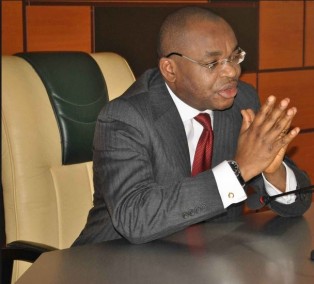 Akpabio, who was governor of the state from 2007 to 2015, had given the incumbent, Mr Emmanuel, during the annual get to-gether organized by the Deputy Governor, Moses Ekpo, for Ikot Ekpene senatorial district PDP stakeholders, conditions under which he will support his second term ambition in 2019.
He had insisted that he will only support the governor for a second term if the perceived current marginalization of his senatorial district was addressed as the era of 'carry-go' politics was over.
But, Governor Emnanuel, who addressed newsmen on arrival at Ibom International Airport, yesterday, said that, with 2019 general election around the corner, people were most likely bent on changing the narrative to score cheap political points,  warning that he will not treat statements that are bound to cause public disaffection, lightly.
"This year is going to be a little bit busier in terms of politics and once you enter into the political terrain of this nature, many things will come up.
"But let me also use this platform to warn any Akwa Ibom person that, with the sacrifice we have made to maintain peace in the state, we won't allow anybody to breach that peace. You can see that people have made a lot of sacrifices in the last three years to maintain peace in the state, " he said.
He observed that the country was passing through a phase of changing the political narrative for a new political culture and advised that people should be guided by their core values while making public comments.
The governor expressed shock at what he termed, "an emerging political theory" whereby excellence is sacrificed on the altar of mediocrity, stating that there was need for a review of the benchmark for assessment of his administration.
"Let me also say here that it is just a new political theory where a post graduate student will score 100 per cent and you say it is a mock examination and then, is a failure.  So if you scored 100 per cent and under the new dispensation of a political theory, it is a failure, it means we have to go back to the drawing board and know what the pass mark is.
"If 100 per cent under the new political theory is a failure, then it holds much to be desired. I want to believe that every single individual will respect himself or herself so that peace can reign in Akwa Ibom State and that is the last warning I will give,"  he added.