By Dayo Adesulu
PRINCIPAL of Federal Government Girls College, Shagamu, Ogun State, Mrs. Agnes Owolabi, has posited that her introduction of a compulsory breakfast Mathematics lesson for all students in the school informed their excellent performance in the West African Senior School Certificate Examination, WASSCE.
Speaking during a press conference held at the school boardroom to herald its 40th anniversary, Owolabi disclosed that she discovered the deficiency in the students on her arrival in the school three years ago.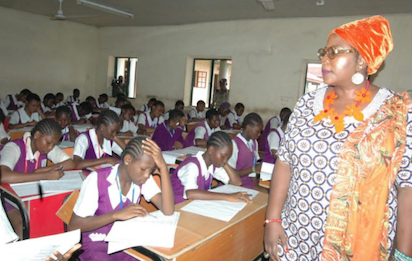 She said, "I had to introduce a compulsory breakfast Mathematics lesson. Also, I made the prep period compulsory for all the pupils and ensured that there was synergy among the Mathematics teachers in the preparation of topics for delivery."
According to her, the breakfast lesson proved in the long run to be effective in igniting the students' interest in the subject and in sustaining their confidence at solving Mathematics and other science subjects.
While explaining the workability of the initiative, she noted that the lesson took place between 7am and 8am each day, adding that it helped both teachers and students cover the Mathematics syllabus and gave enough time for revision exercises.
"The pupils were required to treat one mathematical problem, at least, in a day and this was evaluated. We had what we called a Mathematics Marathon Programme in which the pupils were made to solve mathematical problems requiring short answers within a specified time every week.
"The school has continued to nurture generations of thorough-bred secondary school leavers, who have been going to the outside world to locate their destinies and make their mark. Our achievements have been largely made possible through the high moral and academic standard maintained by the school in the last 40 years. We have produced high-flying technocrats and prominent women who have been contributing to the socio-economic growth of the nation.
"The college performs brilliantly in the WASSC and NECO examinations. In 2012, our pupil, Miss Oluwatobi Oluwasanya, emerged the winner of the National Essay Competition. In the last WASSC examination, our school recorded 100 per cent in almost all the subjects."
Explaining activities lined up for the anniversary, Owolabi said that Monday, January 15, 2018, was Old Girls day for tree- planting and candlelight procession. Tuesday, January 16 was dedicated for cultural and musical concert, inter-house cultural display and cultural groups. Wednesday was for debates and quiz for invited schools. Today is for inter-house sports competition; Friday will be PTA day, Jumat service and novelty match. Saturday is the grand finale, launching of the 40thanniversary college magazine, awards gala night and Sunday will be thanksgiving service.