By SAM EYOBOKA
WORRIED by different complaints about indiscipline among church workers, Christian leaders have been enjoined to have respect for time to achieve set objectives and attract people to the Church, reports SAM EYOBOKA.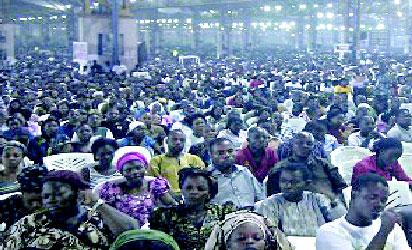 This assertion was made recently by the Lagos State Secretary of the Christian Association of Nigeria (CAN), Baba Aladura Elder Israel Akinadewo at a leadership seminar by the Organisation of African Instituted Churches (OAIC) tagged "Leadership and time management."
Akinadewo, who is also the Supreme Head of Motailatu Church Cherubim & Seraphim Worldwide (MCCSW), maintained that proper time management is key to determine the success or otherwise of any church leader.
Stressing that God is a respecter of time, the cleric stated that every Christian leader "must therefore be working according to time."
According to him, church leaders who respect time will make massive difference in achieving organisational goals within reasonable period.
Akinadewo pointed out that leaders who stick to time, are emulating God who works with time and insisted that life, in itsself, must be phased in time and season.
He lamented what he termed, "African time"in many Christian gatherings, saying those who follow such routine "cannot be taken seriously by disciplined and serious-minded people.
"The only way an organisation will attract those who will add value to it is to strictly keep to time that they have scheduled for their meetings," he argued.
Akinadewo added: "We also need to know that time management is not only about allocation of time to our objectives alone but it is more in terms of maximising the little time we have for the achievement of the objectives for organisational growth."
He said leaders who want to manage time should have stated objectives and work towards their accomplishment with focus. To achieve much more with little time, he told church leaders to avoid irrelevances, manage discussions, hold short meetings with well-articulated objectives as well as reduce allotted time for meeting.