Pope Francis has met a small group of victims of sexual abuse by priests during his visit to Chile, praying and weeping with them, the Vatican said in a statement.
The group met the pope for a "strictly private" meeting on Tuesday in the capital Santiago de Chile.
The privacy meant the victims could tell Francis about their suffering, the statement said. He listened to victims, prayed with them and wept with them.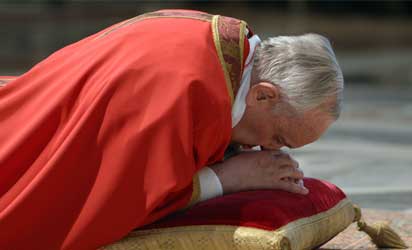 Earlier on Tuesday, the pontiff apologized for sexual abuse by Catholic clergy, saying he felt "pain and shame at the irreparable damage caused to children" and calling such cases "a great and painful evil."
"I am one with my brother bishops, for it is right to ask for forgiveness and make every effort to support the victims, even as we commit ourselves to ensuring that such things do not happen again," the pope said in a speech to Chilean President Michelle Bachelet, her successor-to-be Sebastian Pinera and other dignitaries.
Tuesday was the first full day of the pope's sixth visit to Latin America, which will also take him to Peru until Sunday.
At a meeting with priests later in the day, Francis told them cases of abuse were painful "because of the harm and sufferings of the victims and their families, who saw the trust they had placed in the church's ministers betrayed."
He said they were also painful for priests and other church representatives, who faced "suspicion and questioning" and even insults.
"For this reason," the pope said, "I suggest that we ask God to grant us the clear-sightedness to call reality by its name, the strength to seek forgiveness."
"I think too many abuses were committed for too long. It is a good sign that the pope recognizes it," said Pinera, who will succeed Bachelet in March.
Police meanwhile used water cannon and tear gas to disperse a demonstration protesting sexual abuse scandals and a democracy that kept people in poverty. About 20 people were detained, local media reported.
Two churches meanwhile were burned down in Cunco in the south, according to Radio Cooperativa. Another church was attacked with a firebomb in Santiago de Chile, where the attackers reportedly burned Chilean and Vatican flags and left anarchist leaflets.
Six churches or parishes had already been attacked prior to Francis' arrival.
Chile is the Latin American country where the pope is least liked, receiving an approval rating of 5.3 out of 10, according to the pollster Latinobarometro.
His lack of approval is largely attributed to a string of sexual abuse scandals.
Francis was criticized for his 2015 appointment of Juan Barros as bishop of Osorno, Chile. It is alleged that Barros protected priest Fernando Karadima, whom the Vatican found guilty of child abuse in 2011.
Barros' presence at a Mass celebrated by the pope on Tuesday sparked criticism on social media. Dozens of demonstrators also urged Francis to sack the bishop.
Juan Carlos Cruz, one of Karadima's victims, called the pope's apology "another cheap headline."
"Bishops who covered up [abuse] are still there. Empty words," he tweeted.
The Vatican has meanwhile tried to mitigate the repercussions of another sexual abuse scandal in Peru, announcing last week that it was taking over the Catholic movement Sodalicio. Peruvian prosecutors want to arrest its founder for alleged abuses.
At the Mass following the meeting with Bachelet, Francis urged Catholics to have faith "in the transforming power of God" instead of ignoring social problems and "dulling our senses with consumerism."
The O'Higgins Park, where the Mass was held, was filled with some 400,000 believers waving yellow-and-white Vatican flags.
"I feel a very great joy and happiness. … My Catholic faith is stronger than ever," said Sandra, a teacher.
"This visit gives us hope and joy in being Catholics. Today Chile is a very different, more diverse country, but also with less faith," said Francisco, 22.
The pope and Bachelet later visited a women's prison, where Francis stressed the importance of motherhood.
"Motherhood is not, and never will be a problem," said the head of the Catholic Church, which has criticized Bachelet's government for relaxing abortion legislation.
The pope also criticized the penitentiary system, saying that "a jail sentence is very often simply a punishment, offering no opportunities for personal growth."
NAN