Super Eagles coach Salisu Yusuf said the team passed a big test of character by coming from behind to beat Equatorial Guinea in their last group C game of the CAF Africa Nations Championship in Agadir, Morocco on Tuesday night.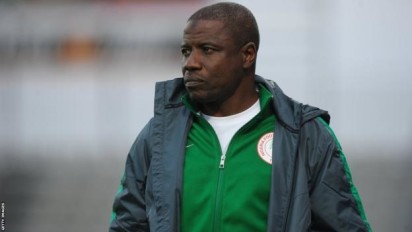 The Eagles booked their place in the quarter-final and must now beat Angola to advance.
"We passed a great test of character and the team should be commended," said coach Yusuf.
"The goal by Equatorial Guinea stunned us because we did not expect it.
"But good enough we fought back in the second half to win."
His assistant, Imama Amapakabo, said the team have improved by each game.
"We are improving by each game and hope it continues in the quarterfinal," he said.
Yusuf said they have to win the next match to reach the semi-finals.
"We have to play to win and we hope to take our chances," he said.
Skipper and goalkeeper Ikechukwu Ezenwa said the focus has now shifted to Sunday's knockout game.
"We are looking forward to our next game, most likely against Angola, we hope to be in the semifinal," he said.
"The solidarity and the spirit in the team have carried us this far and we hope to continue to work hard."