By Johnbosco Agbakwuru
ABUJA – PRESIDENT Muhammadu Buhari has expressed joy over the peaceful conduct of elections in Anambra, Taraba and in Gwagwalada, the Federal Capital Territory, FCT, Abuja.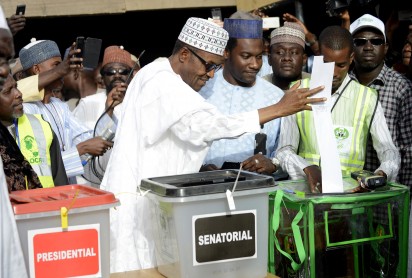 This was contained in a statement from the Presidency which said that the outcome of the INEC-organized elections at the weekend, in which three different political parties won, was a manifestation of President Muhammadu Buhari's deep commitment to free and fair elections.
The Senior Special Assistant to the President on Media and Publicity, Malam Garba Shehu, who was commenting on the outcome of the polls  said: ''the President is inherently committed to the independence of the electoral commission in his belief that the will of the people shall be the basis of authority of government which is expressed through periodic, free and fair elections. He will do nothing to impede INEC."
While Congratulating the winners of the elections in Anambra central senatorial district, Ardo Kola state constituency in Taraba and Gwagwalada central constituency in the FCT, on behalf of the President the spokesman reaffirmed that under President Buhari's watch, Nigeria will record more free, fair and credible elections.
He reiterated the President's commitment to strengthening democratic institutions in the country, by ensuring that all relevant institutions in the electoral process maintain a high-level of professionalism and independence throughout the electoral process. 
He commended the INEC, security agencies, civil societies, the media and other stakeholders for their roles in the elections, and called on parties not satisfied with the outcome of the polls to heed the President's counsel by seeking legal redress through constitutional means.