Abuja – The Central Bank of Nigeria (CBN) says it will aggressively push and support farmers to boost the production of tomato, cocoa and palm oil across the country in 2018.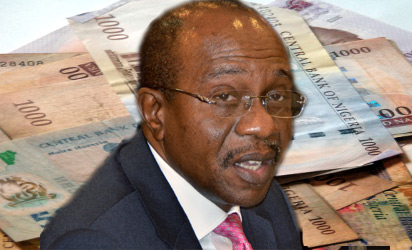 The CBN Governor, Mr Godwin Emefiele, disclosed this when he visited Chief Audu Ogbeh, the Minister of Agriculture and Rural Development in Abuja on Wednesday.
Emefiele said the drive was to support government's effort toward ensuring that the country feeds itself and reduce food importation.
The governor said that he was at the ministry to liaise with Ogbeh, to fashion out strategies to ensure that President Muhammadu Buhari's pronouncement that the importation of rice would end by 2018 was realised.
According to him, we will galvanise Nigerians, the private sector, and big companies to join us in this assignment.
"We have supported cassava production in some southern states and we are going to aggressively push tomatoes this year.
"We are working with the South Western States and the ministry toward pushing cocoa this year.
"The Development Finance Department of CBN has concluded its framework for palm oil in the south eastern and mid-western parts of the country.
"These are the things we are going to roll out this year, and I am sure that the kind of success we will see this year will be better than ever seen,'' he said.
On farmers-herdsmen clashes across the country, he said "what is important is that we are Nigerians and there is the need for us to co-exist, work together and live together''.
The governor expressed optimism that the Federal Government would come up with decisions that would resolve the problem totally.
Emefiele noted that the bank was working tirelessly to make access to finance easy for citizens, especially farmers.
Earlier, Ogbeh appreciated the bank for its support to farmers across the country.
According to him, without the CBN, the successes recorded in the ministry in the last two years will not have happened.
He said the ministry through the Bank of Agriculture (BoA), would ensure that farmers who collected loans from CBN, repaid them to enable others to benefit.
On export earnings, the minister said that exporters earned 35 million dollars from the sale of hibiscus leaves known as `zobo' to Mexico in 2017.
Ogbeh said the country had received a Local Purchase Order (LPO) from Vietnam for the supply of raw cashew nuts worth N120 billion for 2018.
"The backing of the CBN is so crucial because we have to move forward.
"Our country has to survive. Once we end rice and eventually wheat importation, we will begin to drive other crops.
"We are going to re-launch cocoa this year in Ondo State, and revive the old trees with new fertiliser which has an inclusion of boron,'' he said.
The News Agency of Nigeria (NAN) recalls that the CBN through its Anchor Borrowers Programme, supported many farmers across the country in 2017.