By Joseph Erunke
ABUJA-TO achieve operational efficiency and boost the morale of troops, the Nigerian Army authorities will soon not only redeploy but reorganize troops in the battlefield, the Chief of Army Staff, Lt General Tukur Buratai, has said.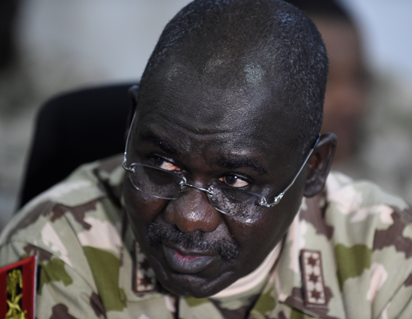 Speaking Tuesday, while receiving members of the House of Representatives Committee on Defence, at the Army Headquarters in Abuja, Buratai said the military would remain apolitical and observe the supremacy of the political class over military institutions in the country.
He, however, did not give details of the planned redeployment and re-organisation, even as he assured that the Nigerian Army would pursue its goals and objectives diligently in line with the constitution of the country.
Hear him:"Let me assure you that as one of the arms of the armed forces, we will continue to remain apolitical, we will observe the supremacy of the political class over the military institutions; that is to say political control of the military will continue to remain. We will do our responsibilities diligently in line with the constitution.
"No doubt, the challenges of accommodation are major challenges that the Nigerian Army has and is grappling with over the years. While the dilapidation and sorry state of our barracks cannot be blamed on the present authority both military and political authority, it has been a long standing one.
"Issues of funding a are quite fundamental but we know that funds are inadequate because of the several competing interests of the various sectors Nigerian economy. But we have been using funds allocated to us judiciously.
"The army need requisite funds to carry out development projects and other important commitments. We have the interests of our troops at heart and we know the importance of morale to them.
"We want to keep their morale high and that is why we are planning on reorganising how troops are deployed to battle fronts in relation to their welfare and other issues."
Speaking earlier, Chairman of the Committee, Hon Rimamnde S Kwewum said the committee has gone round the country and members were concerned about the state of accommodation for soldiers, noting that it was unbelievable that some soldiers were still living in buildings built by colonial masters.
Hon Kwewum promised that in the remaining two budget circles for the present administration, the committee would ensure that adequate funds were appropriated for the military to enable them tackle some of the challenges facing them especially in the area of decent accommodation for military personnel across the country.