Merit not parochial sentiments will determine the direction Anambra east and west Federal constituency electorates will go, in the forth coming February 2019 general election. Those hoping to use sentiments to brain wash and deceive voters should bury their ideological idiocies.
Wise people of Anambra east and west Federal constituency will never fall prey of the political antics of those that does not mean well for them. Capacity, choice and public acceptance will be the determinant factor in the forth coming election.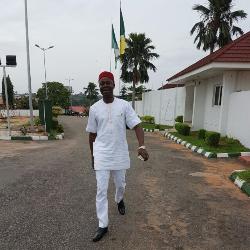 APGA as a party must avoid the mistake of fielding a sentimental, unpopular and perhaps unknowledgeable candidate that does not have the capacity and wherewithal to protect and also defend his mandate at the Law Court. The ugly experience of Bars Peter Madubueze should serve as an eye opener to APGA.
The era of using sentiment to clinch party ticket is gone. Already, some political morons have started whipping up sentiment, blackmailing and criticizing Hon. Chinedu Obidigwe for his interest to contest for the seat of Anambra east and west Federal constituency in the forth coming 2019 election.
Their anger cannot be justified and their criticisms baseless. However, they hold a flimflam argument that since Governor Obiano is from Aguleri, the House of Reps position should go to Anambra west.
What a myopic and warped reasoning. Recall that sentiment and bias was the line APGA and the people of Anambra east and west toed in the 2015 election that ended in regrets.
The resultant effect of the 2015 election was that before the last Governorship election, Hon. Tony Nwoye was busy hyping himself, going round the country spewing gibberish to those who cared to listen to his pointless stories.
Tony Nwonye said he defeated Governor Obiano's candidate in their constituency during the 2015 general election. He equally opined that he will replicate such electoral feat in November 2018 governorship election, which he never did.
He succeeded in using his cock and bull stories to manoeuvre and convince APC leadership about his non existing electoral value and clinched their party ticket.
Amidst his endorsement by his party, Governor Obiano stroke a heavy electoral blow at him in Nsugbe  (his Community), Anambra east and west Federal constituency and Anambra State at large in the November 2018 governorship election.
However, permit me to say that Hon. Tony Nwoye is a court declared House of Reps member. He knew what he did at the Court to be declared winner of that election.
The truth remains that Bars Peter Madubueze lacked the capacity to defend his mandate at the Law Court which Nwoye exploited to strip him of his mandate. What a theft?  We can never allow this mistake to repeat itself.
It is unarguable to say that Hon. Chinedu Obidigwe has all it takes to win the election for APGA and also a man that will ensure the defence of his mandate at the Law Court.  Hon. Obidigwe is regarded as the choice of the youth and the downtrodden. His accessibility, philanthropic nature and his treatment to fellow human speak and portrayed effervescently clear his intents to fellow humans.
We must do away with parochial sentiment to give APGA a voice at the green chamber and we must also say no to lukewarm and sit 'don dey look' representation.
Hon. Chinedu Obidigwe's second USP is a five letter word 'lobby'. He is a lobbyist that can help the people of Anambra east/west achieve their desired visions.
He will deploy his capacity to attract Federal government presence to the good people of Anambra east and west Federal constituency.
Not the more you look, the less you see Federal attention that was attracted to the Umunya axis of the Enugu/Onitsha expressway by Tony Nwoye during the governorship election. It is shameful to say that immediately after the election, RCC contractor handling the project left the site.
To cut my long story short, I am advising APGA to use merit and capacity as a yardstick for choosing the candidate that will fly the party flag for Anambra east and west Federal constituency in the 2019 election.
Again, electorates of Anambra east and west should not allow themselves to be hoodwinked into making a costly mistake in 2019. We need a Legislator that will compliment Governor Obiano's efforts for the people of the Oil and Gas rich Federal constituency at the green chamber. We need a Legislator that we can be proud of his effective representation of our Constituency.
A Legislator that will end the marginalization of our Constituency in the Federal appointments and projects distribution.
That person is Chief Hon. Chinedu Obidigwe (Aka oma jide aku olue umu ogbenye aka), the truly working Special Adviser to Governor Obiano on Political matters. Supporting his 2019 ambition is a patriotic task that is worth fulfilling.
Written by Evang Chinedu Obigwe  (Akaekpuchionwa), National Co-ordinator of APGA Media Warriors Forum.