By Dirisu Yakubu
ABUJA – Former Vice President and chieftain of the Peoples Democratic Party (PDP), Atiku Abubakar has expressed sadness over the death of many in Wednesday evening suicide bombing in Maiduguri, the Borno State Capital.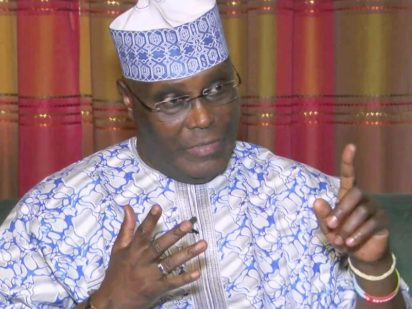 He described as disturbing the increasing instances of girls being used as suicide bombers, saying, "We need our girls to be mothers, teachers and scientists of the future. Certainly, not being used to carry out extremist ideologies."
The devastating explosion in Maiduguri was said to have been carried out by four female suicide bombers – a signature of Boko Haram terrorist attacks in recent times.
In a press statement by Atiku Media Office, the Waziri Adamawa said the Boko Haram sect remain a potent threat to the lives and property of Nigerians, especially in the North-East region of the country even as he tasked Nigerians to be on their guards and partner with security operatives closest to them to report suspicious activities.
"We are all in this together. We must work closely with security operatives on ground to make sure that our land is secure and our lives are safe. The threat that we face is real and our determination to face the threat must be daring.
"I pray to God for a peaceful repose of the dead and fortitude to their bereaved families and friends, " he stated.
In a related development, the erstwhile Vice President has condemned the killing of two policemen during a kidnap operation of two foreigners, an American and a Canadian along the Abuja-Kaduna Expressway on Tuesday.
He noted that while kidnapping on its own is a criminal act, it was equally an act of sabotage against the national economy.
"Kidnapping drives away foreign investors. It drives away corporate and individual donors from engaging in humanitarian missions and the gross effect of it leaves a debilitating effect on the health of the national economy," he added.