By Innocent Anaba
lagos—A  Federal High Court sitting in Lagos has acquitted a Lagos socialite, Akindele Ikumoluyi, of money laundering charges filed against him by the National Drug Law Enforcement Agency, NDLEA.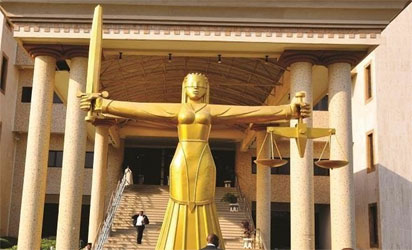 Trial judge, Justice Ibrahim Buba found him not guilty of the offence.
He discharged and acquitted the defendant of the six-count charge and agreed with the arguments of defence counsel,  Mr Wahab Shittu.
Ikumoluyi was initially arraigned for money laundering along with his late mother,  Funke on a-six count charge dated July 6, 2009.
They were accused of conspiracy to convert resources, conversion of resources, collaboration, concealment and disguising, contrary to Sections 14 and 17 of the Money Laundering Act.
The prosecution later withdrew the charge against, Mrs. Ikumoluyi, who died in the course of the proceedings.
The prosecution initiated an amended charge on December 20, 2012 and later brought another amended charge of October 15, 2015, with Mr Ikumoluyi as the only defendant.
NDLEA said sometimes in 1998 at Lagos Island, Ikumuluyi converted resources derived directly or indirectly from illicit trafficking in narcotic drugs by using them to acquire landed property at 6, Freeman Street, Lagos Island.
The prosecution said it was with the aim of concealing or disguising the illicit origin of the resources.
He was also accused of concealing or disguising the ownership of a house on 7, Ajoku Oduyebo Street, Sabo Ikorodu Lagos, by purchasing it in the name of Peter Ikumoluyi, a dead person, using resources derived directly or indirectly from the proceeds of illicit trafficking in Narcotic.
Other property he allegedly acquired and concealed include 20, Ikemu Street, Oworonshoki, Lagos in 2005, as well as a property at 35/37 Akerele Street, Oworonsoki, which he allegedly acquired in conspiracy with his late mum in the name of a the dead person in 2007.
He was also alleged to have acquired a landed property at 11, Olaolude Street, Oworonsoki, Lagos in 1994.
Justice Buba, in the judgment, held that the prosecution did not show that the defendant was convicted at all times material to the acquisition of the property alleged in the counts.