Market to close flattish this week
Stories by Nkiruka Nnorom
CAPITAL market operators have projected a strong performance for the equities market in 2018 after recording a resounding growth where the All Share Index, ASI, grew by 42.3 percent at the close of trading on Friday.
They, however, said that the market would close flattish this week as activities remain low key in the yuletide season.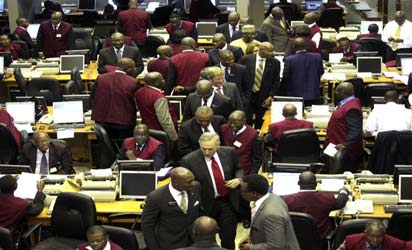 Review of activities for the year showed that positive sentiments dominated the equities market in the year as investor confidence was restored following release of impressive financial scorecards, alongside developments such as the increase of Nigeria's weighting in Morgan Stanley Capital International (MSCI) Frontier Market Indexes and the introduction of the Investors' and Exporters' (I&E) FX window in April which increased the participation of investors in the equities market.
Consequently, the NSE closed the year in a positive territory or the first time in three years as the ASI returned +42.30 percent year-on-year (YoY) to close at 38,243.19 points from 26,874.62 points as at the end of 2016.
Also, the market capitalization advanced significantly by N4.36 trillion to close at N13.61 trillion from N9.25 trillion as at the end of 2016, representing 47.1 percent increase. In the same vein, the volume of transactions and market value advanced by 6.94 percent and 108.50 percent respectively.
The market closed in favour of the bulls as 67 advancers emerged during the year compared to 38 decliners.
Making  projection into 2018, analysts at Merristem Securities said; "Given that we expect the Nigerian economy to maintain its steady growth, we do not expect the market to deviate from its current trend, hence, we opine that this positive momentum will be sustained in 2018, albeit at a slower pace on the back of the high base effect in 2017".
In their own projection, analysts at Vetiva Capital said: "We project a strong equity market performance in 2018, with an estimated full year return of 15 percent to 20 percent (bear: -10 percent, bull: 30 percent)".
They noted that despite the 2017 equity market rally driven by a partial liberalization of the country's exchange rate regime, the Nigerian Stock Exchange remained relatively undervalued, saying that favorable external conditions bolstered by stability in foreign exchange, energy supply, receding cost pressure and strengthening consumer demand would help to drive the expected growth in the market during the year.