BY JIMITOTA ONOYUME 
PORT HARCOURT: GOVERNOR Nyesom Wike has accused some leaders of the All Progressives Congress, APC, in Rivers State,   of allegedly sabotaging development in the state, saying they had   tried several times to stop national and international   events from holding in the state.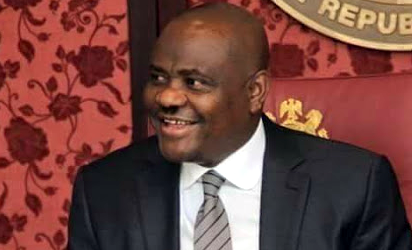 The governor spoke at a state banquet in Government House for contestants of Miss University Africa Beauty pageant, stressing that these leaders had continued to take steps to demarket the state.
He said the alleged enemies of the state had made attempt to stop the ongoing African Wrestling championship from holding in the state.
He said: "If you de-market Rivers State that produces the wealth of the country, then you are de-marketing Nigeria.
"The fear they have is because we are delivering, while   they are not performing.   They don't want the world   to see the transformation taking place here".
"We are willing to partner with investors in the areas of agriculture, skills development and other key areas", he said.
The governor noted that the contestants of the Beauty Pageant from the 54 countries of Africa were the greatest marketers of Rivers State as they will continue   to promote the state long after the competition.
While urging the contestants to also focus on education, Governor Wike said women have the capacity   to compete in all human endeavours.   He said under no circumstance should women beg for placements as they have the requirements   to struggle and win political and economic contests.
Earlier, the Coordinator of Miss University Africa Beauty Pageant, Mr Taylor Nazzal, said the pageant will project Rivers State positively to the entire continent.
He lauded Governor Wike for creating unity in diversity by hosting African Queens from the 54 countries.
Speaking on behalf of diplomats, Namibian Ambassador to Nigeria, Dr. Peingeondjabi T. Shipoh, said that all African Missions   in the country will join Governor Wike in developing the state through the invitation   of key investors.