By Joseph Erunke
ABUJA-THE Joint Admissions and Matriculation Board, JAMB, has warned telecommunication companies against arbitrarily charging its Universal Tertiary Matriculation Examination on short service message, sms charges.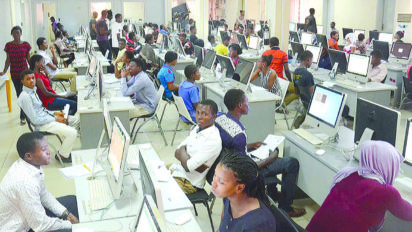 The board said even as it was aware of the nation's network challenges, telecom companies should not expect the candidates to pay for their infrastructural difficulties.
The board in a statement by its Head of Media, Dr Fabian Benjamin, Thursday, said its attention has been drawn to multiple SMS charges on candidates phone numbers attempting to register for the 2018 Unified Tertiary Matriculation Examination (UTME) and Direct Entry (DE) by telecommunications companies enlisted to provide Profile code creation services through sending and receiving of SMS.
"The telecom companies are to charge only 50 Naira per SMS to use the service. Candidates are made to repeat these SMS commands several times either due to poor network or processing failure leading to rapid response(s) after the command is sent.
"The Board therefore advises telecom service providers to stop the multiple charges and stick to the agreement reached with the Board, "it said.
It added:" Candidates who are victims of these multiple charges are to raise a complaint support ticket on support.jamb.gov.ng for redress and further action by the Board. The Board would insist on a refund by any telecom that continue to charge these candidates twice.
"We are mindful of the nation's network challenges and does not expect the candidates to pay for the telecoms infrastructural difficulties, "it further said.
Meanwhile, the board has faulted the claim of the Colleges of Education Academics Staff Union, COEAS, that it placed universities over and above Colleges of Education in the choices for candidates seeking admissions into tertiary institutions in Nigeria.
According to COEASU's claim, the board placed more priority in terms of choice by making universities first (1st) choice and Colleges of Education third (3rd) choice which is responsible for making colleges of education a dumping ground and less attractive as more brilliant candidates would have chosen universities first.
Responding to this, JAMB said:"The Board wishes to correct this erroneous impression. Our advertisement typically, including this year, request candidates to make ANY institution as their first choice, Colleges of Education inclusive.
It said:"Our caption has always been " Order of choice of Institutions : Every candidate is to note that the 1st choice can be a College of Education, University, Innovation Enterprise Institution…" This was made clear to COASU during their visit with copies of our adverts provided to them. It is strange to the Board for COASU to issue such a misleading communique.
"We have never placed any candidate(s) nor advice candidates on the choice of institution as it is the candidates volition to determine which institution to pick as their first choice and also which course to study. Candidates are at liberty to choose any institution they desire.
"The Board restates that the 2018 application documents published in the national dailies are clear, self explanatory and devoid of any priority or preference as alleged by COEASU.
"The Board has introduced numerous initiatives to encourage teacher enrolment particularly to the colleges. The flexibility in the cut off mark this year was partly to increase enrolment of candidates therefore increasing the need for Teachers and appreciation of Technical Education which is one of the major focuses of the Oloyede led management hence the need to correct this issue."