By Prince Osuagwu
When Facebook Founder, Mark Zuckerberg, visited Nigeria, last year, one of the challenges he threw at local application developers was to look inwards for applications that would solve the country's economic problem.
Zuckerberg said the challenge is based on the immense talent and energy Nigerian youth exuded in different innovation camps he visited.
He charged developers to arm themselves with the realisation that the best way to predict the future is to be creative, as there is no problem in the world that does not have an application to solve it.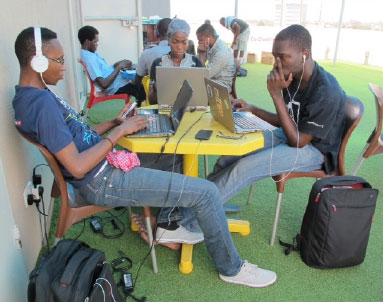 One year after his visit, it appears the challenge is still fresh in the minds of Nigerian app developers and is spurring them to greater heights.
From Co Creation, CcHub, to Andela, Hotels.ng and a host of others, there are several success stories. These successful start-ups are thriving against the odds of weak infrastructure, epileptic power supply and general lack of funding or investment.
In the face of these odds a lot of new start-ups have also latched on this challenge to do exploit. Some of them are flying Africa's flag high in the world based on new ideas and presence in the new technology world order.
They are largely part of the estimated 700 active startups tech ecosystem located in Lagos city alone that are bursting with energy and dynamism.
They account the local startup ecosystem valued at well over $2 billion (N614bn)
So, it was not any surprise that three Nigerian tech start-ups made the final list of 16 people selected from across Africa for the 2018 Africa Prize for Engineering Innovation.
The shortlist which was announced in Cape Town, South Africa recognises the most talented African engineers from across sub-Saharan Africa, including innovators working to make malaria and reproductive health tests easier, using dolphin-inspired echo-location for visually impaired people, and recovering precious metals from car parts for re-use in manufacturing.
The Nigerian wonder kids include: Ifediora Ugochukwu who developed an app called Intelligent meter, iMeter.
The iMeter, an advanced metering infrastructure, gives consumers and power utilities control over how electricity usage
The smart meter measures energy usage and connects to cell phones or computers that have the AMI software on them.
Another Nigerian youth engineer, who made the list, is Nnaemeka Ikegwuonu who developed
ColdHubs -a solar powered walk-in cold room that extend the shelf-life of perishable foods from two to 21 days.
The other, is Emeka Nwachinemere who developed Kitovu; an online platform that helps rural and remote small holder farmers triple their crop yields and sell their produce.
The three Nigerians and their 14 other counterparts across Africa would be challenged to develop skills that last a lifetime. They will become part of a growing community of talented African engineers working to accelerate socio-economic development through business.
The shortlist, which represents the fourth group of engineers supported through the Africa Prize, also features several digital innovations. Among them are mobile apps that grant micro-loans within minutes, an app that makes it easy for musicians to manage bookings and sell merchandise, and another to help commuters book one of the 20,000 trips taken daily on motorcycle taxis in the city of Kigali, Rwanda.
Agricultural innovations also feature strongly. They include sensors that send soil information to farmers' phones straight from the field, an online platform that helps farmers triple their yield, and a low-tech dehydrator that extends the shelf-life of crops tenfold, improving food security.
Africa Prize judge, Moses Musaazi said that "turning engineers into entrepreneurs is vital to unlocking the creative solutions that exist across Africa".
He added that "the Africa Prize's support gives engineers the confidence to approach funders, clients and investors, and the knowledge to improve their supply chain and business models."
The Africa Prize also recognises process engineering, represented this year by innovations to generate power from the many radio waves that are around us every day; and for producing affordable biogas from manure for household use.
Two educational solutions include an app that hosts a variety of courses, and a mini-science lab that fits into an ordinary school backpack.
After six months' mentoring and training, four finalists will be selected from the shortlist. In June 2018 the finalists will present their businesses to judges in front of a live audience, after which one winner will receive £25,000, and three runners up will be awarded £10,000 each.
The Nigerian inventions at a glance
iMeter
The Intelligent Meter (iMeter) and Advanced Metering Infrastructure (AMI) gives consumers and power utilities control over how electricity is used.
The smart meter measures energy usage and connects to cell phones or computers that have the AMI software on them. These applications give consumers the ability to manage their smart meters remotely. They can monitor power usage, set budgets, disconnect their meters and make payments. For people with limited internet access, select services can be accessed through text.
More than 30% of meters in Nigeria are tampered with or bypassed, and power utilities resort to bill estimation when this happens. This has reduced access to electricity because consumers who feel that their bills don't correspond to their usage have been disconnected.
The iMeter and AMI system means that consumers are billed only for the energy they use.
The system detects tampering and notifies the power utilities. This discourages vandalism of power equipment, improves power supplies for communities and reduces deaths by electrocution.
Power utilities can pay a fee for data and real-time analysis provided by the system.
The affordable system also allows two-way communication between consumers and utilities.
ColdHubs
ColdHubs are solar powered walk-in cold rooms that extend the shelf-life of perishable foods from two to 21 days.
According to the Rockefeller Foundation, in developing countries like Nigeria, 45% of food is lost due to the absence of cold storage. This leads to a 25% loss of annual income for smallholder farmers.
The ColdHubs are 3 x 3 metres and have solar panels on the roof. Each hub can store up to 3 tonnes of food arranged in 30 kg crates. They use natural refrigerants, which minimises the environmental impacts of the cooling.
The ColdHubs are installed at markets and farm co-operatives. Farmers and retailers can rent space in the cold-hubs and only pay per crate of food stored per day. Excess solar power is stored in batteries to ensure the hubs are kept cold at night and in bad weather.
ColdHub already has 287 customers using the five hubs that have been installed at different sites in Nigeria.
Kitovu
Kitovu is an online platform that helps rural and remote smallholder farmers triple their crop yields and sell their produce.
The app links the farmer's location to a soil database to determine the soil types found on a particular farm. Using that information, plus the crop type, determines the fertiliser the farmer should use.
In a World Development Report, the International Food Policy Research Institute puts average yield for maize in Nigeria at 1.2 tonnes per hectare, which according to the Food and Agricultural Organisation is a third of the global average. During a pilot of Kitovu, a yield of 3.9 tonnes per hectare was achieved.
Farmers can buy high-quality fertilisers or seedlings through the app, or use it to sell their produce. If a farmer can't afford to buy the fertilisers or seedlings, they can pay Kitovu with their produce after harvest.
The app is free for farmers, but suppliers and produce buyers pay to use the platform. Kitovu takes a 5% commission on sales made through the platform. The platform also makes money by selling adverts, which are displayed in the app.
The app is aimed at farmers who can't afford soil tests, but want increased yields, a reduction in post-harvest losses and increased income.