Serena Williams lost on her return to competitive tennis after giving birth, going down to French Open champion Jelena Ostapenko in an exhibition in the United Arab Emirates on Saturday.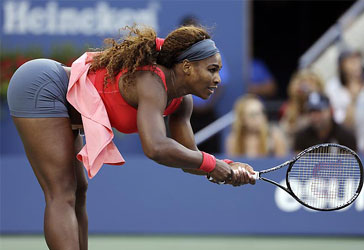 Williams struggled with her serve and Ostapenko won 6-2, 3-6 and then 10-5 in a super tiebreaker, but the American still impressed to take a set off the No. 7-ranked Ostapenko after nearly a year away from tennis.
The 36-year-old Williams took time off after winning the Australian Open last January while pregnant. She gave birth to her first child, a girl named Alexis Olympia Ohanian Jr., on Sept. 1.
Williams broke French Open champion Jelena Ostapenko in the opening game of their exhibition match in Abu Dhabi but lost the first set 6-2.
But the 23-time Grand Slam fought back to win the second 6-3 and force a deciding champions' tie-break, which the Latvian took 10-5.
Williams was understandably rusty but produced an encouraging performance, watched by her four-month old daughter Olympia.
"Motherhood is phenomenal but I was a little worried out there," Williams said.
"I looked at my camp and was like 'is Olympia okay?  "But it's really good. I'm excited. It's good to be back on the court. This was such a good time for me."
Williams remains registered for the Australian Open, which starts on January 15, where she will be defending the title she won while eight weeks pregnant last time around.
While Serena seem delighted to be back in action, she did not address the issue of whether she would also play in Melbourne.
"It's my first time playing out in Abu Dhabi so thank you for the support. It was really cool," Williams added.
"First matches back are always super-incredibly hard, especially after having a baby. But it was great. I'm glad I could do it here."