By Bose Adelaka
Hundreds of protesters from Ita Sanni, Gbaga, Ogijo, Odogunyan, Agbede, 1st Gate, Okegbegun and Ikorodu in Lagos and Ogun states, yesterday, trooped to the streets protesting the deplorable condition of Ikorodu/Sagamu road which they claimed has recorded many untimely deaths.
The protesters have therefore given Lagos, Ogun and Federal Governments an ultimatum of January 2018  to fix the road or incur the wrath of residents.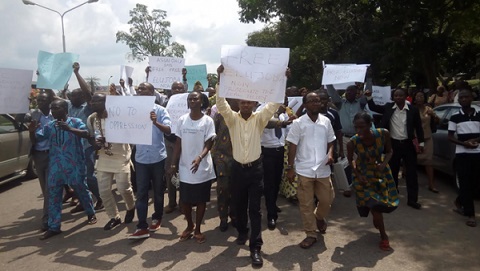 The Trunk A Road constructed in 1928 is the major road linking Ikorodu, Lagos State to places like Simawa, Sagamu in Ogun State as well as Lagos/Ibadan Expressway but the protesters claimed its deplorable condition has made many car owners to abandon their cars.
The peaceful protest was led by some concerned residents like Alaba Peters, Alhaja Owolewa Abolore popularlly called "Alhaja Chicago" and representatives of Road Transport and Employees Association R.T.E.A.N as they assembled at Odogunyan and trekked to Ogijo up to Sawmill, LASPOTECH and First Gate carrying placards.
In his address, Alaba Peters said over 100 tax paying companies  were making use of the road and called on government to use the proceeds on road maintenance. He said, "Fares from Ikorodu Roundabout to Odogunyan, First Gate and Ogijo have been jerked up from N100 and N150  to N300 and N400". He then called on Lagos, Ogun and Federal Governments to come to the plight of residents,"
Also, Alhaja Abolore said over 50 lives were lost to various auto crashes occasioned by the deplorable condition of the road. She said, "Three years ago, the Caretaker Committee in Ogijo and Ikorodu Divisions wrote former Lagos State Governor Babatunde Raji Fashola to fix Ikorodu to Odogunyan axis of the road but there was no response and the road kept deteriorating till date which has affected commercial activities in the area,"
A representative of R.T.E.A.N Mr Fashola Adesanya said the deplorable condition of the road has reduced the drivers' daily income from N15,000 to N5,000 such that many drivers were now off the road.
Another resident Adekunle Sharafadeen said the jouney from Ikorodu roundabout to Sagamu now takes 2 1/2 hours as against the usual 30  minutes. He said, "thousands of drivers can no longer repair their vehicles due to the poor condition of the road. Also, a senior lecturer with Lagos State Polytechnic LASPOTECH, Ikorodu was crushed to death about six months ago. If the federal government has left its job undone, what happens to Lagos and Ogun? The deplorable condition of this road has been exposing road users to various forms of attacks and we want government to arrest the situation,"
A septugenarian Alhaji Hakeem Oduga who threw his weight behind the protesters said over 4,000 trucks daily ply the road.