Abuja – The Most Rev. Nicholas Okoh, Bishop of Abuja and Primate of all Nigeria (Anglican Communion), has urged the Federal Government to tackle the supply of electricity and health facilities in the country.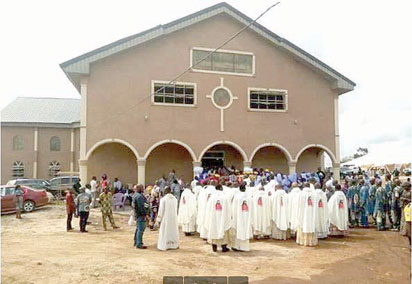 He made the appeal in an interview with newsmen, at the Cathedral Church of Advent Lifecamp, on Monday in Abuja.
Okoh noted that tackling electricity and health in the nation would go a long way to make the masses happy with their daily activities.
He urged the government to have a task force to train and bring in facilities that would benefit the masses.
"Whatever the government can do to tackle the issue of electricity and medical is good news to the poor. In this Church alone, we have lost somebody to cancer.
"There is hardly any quarter that somebody does not die and that is after a huge amount of money has been spent in India.
"What lesson are we waiting for? We lost president Yar'adua; only God intervened in the case of President Muhammadu Buhari. Is this not enough lessons for us?
"Why can't we have a kind of task force to train our manpower and bring the facilities here in Nigeria so that not only senior people can get cured or treatment but that ordinary people too will have access to it?
"Health and education facilities need attention. If we have them, it will be good news to the poor.
On the path of salaries, Okoh stated that increment should not be done in terms of money quantum so that the naira would maintain its value in the next one or two years.
According to him, "if we increase money from N18,000 to N56,000 as the Nigerian Labour Congress (NLC) is saying, it won't take much time, most of the money will become paper.
"The exchange rate is artificial; let us bring down the value of the dollar so that if I have N50, it will also do the work of N150.
"Ghana did something like that, they denominated the value of their Cedis and they have a more quality money now.
"We cannot continue with this increment every now and then; the good news to the poor will mean that the value of their naira has been increased.''
The Catholic Archbishop of Abuja, John Cardinal Onaiyekan, noted that there was no government that would serve the nation in such a way that people would be happy in all aspects.
Onaiyekan called on rulers to take this seriously and put aside political rivalries and rhetoric, adding that the people who had to live were the most important in the society.
He stressed that it was only hope that would help sustain Nigerians so that things would get better in the country.
Onaiyekan, who focused on joy, hope and peace stressed, that Christmas should be a season to spread joy even when the nation was filled with distress, crisis and hunger.
He advised Nigerians to always have a cheerful face with smiles from the inner joy without ill will against anybody even those who were enemies.
"Things are not perfect and no government will serve the nation in such a way that everybody is happy but there is a minimum of gestures.
"The land was filled up with distress and most of the stress is man made not caused by God, it is caused by our inability to help one another.
"Let Christmas be a time when we try to spread joy even in the midst of crisis and hunger, there are always possibility to have the inner joy which is beyond understanding.
"Another simple way of spreading this joy is to have a cheerful face. Smile at people but above all have no ill will against anybody, even those who you think are your enemies,'' Onaiyekan said.
In his remarks, Rev. William Okoye, General Overseer of the All Christian Fellowship Mission, said that sin was at the root of all the problems the country is faced with today.
Okoye, however, noted that Jesus Christ came to save Christians from their sins, adding that it should be dealt with individually.
According to him, we are told that one of the reasons why we have fuel scarcity is because some selfish people exploit the masses.
"They want the price of fuel to be increased so they want to force the hands of government and every other person to bow so that they can have their way.
"In every major religion we have in the world, the golden rule is found in their entire book. Treat others the way you will want others to treat you.
"We are so religious and yet bankrupt morally and spiritually.''
On his path, His Eminence Isaac Bello, Elder in Charge of National Headquarters Annex, Abuja, said Christmas was about sacrifice, humility, selfless service and most of all, the love of God through Christ.
Bello called on Nigerians to endure and put God first even at this period of hardship and together the country would become a better nation for all. (NAN)