Protesters again took to the streets of Togo's capital Lome on Saturday to demonstrate against the rule of President Faure Gnassingbe, who was in Nigeria chairing a summit of West African leaders.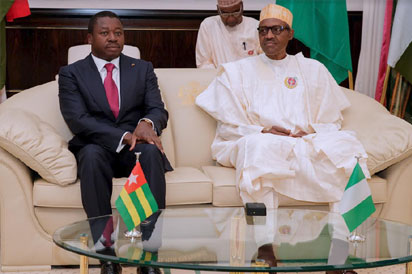 Anti-government marches have been held across the country nearly every week since August, attracting hundreds of thousands of protesters demanding the exit of Gnassingbe, who has ruled for more than 15 years.
Gnassingbe was in Abuja chairing a summit for the leaders of the Economic Community of West African States (ECOWAS), as he currently holds the regional bloc's rotating presidency.
The ongoing political crisis in Gnassingbe's own country is not on the summit's agenda, which is expected to address integrating Morocco into the group and the situation in Guinea-Bissau.
On Thursday the opposition coalition said Gnassingbe's counterparts should "put everything in place so that at the Abuja summit, the regime that has governed the country for more than 50 years takes on board and finally accepts the alternation of power".
The opposition also described Togo as an "unacceptable political anomaly" in the region.
"All institutions in the country are locked up in favour of a single family and… the ballot box has no meaning," it added, warning that action was needed to prevent the situation becoming "uncontrollable".
Gnassingbe's father General Gnassingbe Eyadema ruled the country for 38 years before Gnassingbe took over after his death in 2005.
– 'Our fight is just' –
Demonstrations were also held on Wednesday and Thursday, and like the previous marches they called for the introduction of a maximum two-term presidential mandate and a two-round voting system.
However Gnassingbe refused to rule out running for president again in an interview to be published Sunday in the Jeune Afrique (Young Africa) magazine.
"Constitutions are for the future, not the past," he said when questioned about the opposition's push for consitutional reforms to make presidential term limits apply retroactively.
Asked whether he would be a candidate in 2020 elections, he said he was "not yet in a position to have a perspective".
He also said that planned preliminary talks with the opposition will happen "very quickly… before end of the year celebrations".
On Tuesday the opposition coalition boycotted government consultations, which had been called for by the international community, describing them as a "diversionary tactic".
The protesters in Lome on Saturday seemed divided on whether the ECOWAS summit would affect the situation.
Noussougan, a nurse, said he was "certain that the leaders currently at the Abuja summit will give us support. They know that our fight is just. It is time to liberate this country".
"I do not expect anything from the ECOWAS heads of state. They will not be able to tell the truth to Faure (Gnassingbe). The fight continues," said a motorbike taxi driver who gave his name as Follygan.