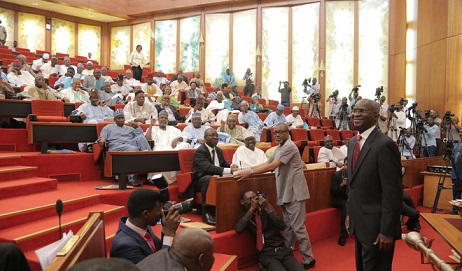 Fashola-NASS disagreement misconstrued
Sen. Mustafah Bukar (APC-Katsina) has said that he presented six Bills and six Motions before the National Assembly which were all passed into law by the Senate between 2015 and 2017.
Bukar, representing Katsina North Senatorial District, disclosed this in an interview with newsmen in Daura on Wednesday.
He said the bills included the Bill for an Act to establish and regulate the Nigeria Asset Management Agency; Unclaimed funds legislative bill, and the Nigeria building and road research building.
Bukar said other bills were the Federal Polytechnic Daura Establishment Bill 2017 and a Bill for an Act to establish the legal framework for public private partnership 2016.
According to the lawmaker, he presented the motion on Financial inclusion for socio-economic development and a motion on the urgent need to stop the plan to raise federal government bond of N309 billion to finance the shortfall in Nigeria electricity market and take steps to save the sector.
Bukar added that other motions were on climate change induced crop failures in the Sudan/Sahel agro ecological zones of Nigeria, and a motion on the bad state of some federal roads in Katsina State.
He said a motion on the need to establish and delegate special purpose vehicles to execute and operate major power sector development project was also presented.
Bukar assured the people of his constituency that he would continue to sponsor motions and present Bills that would bring rapid socio-economic development to the constituency and the nation at large.
The legislator said: "I am not elected to warm the chair but rather represent the electorate.''
He said the upper legislative chamber has put all machineries in place to ensure the speedy passage of the proposed 2018 budget without delay.
He commended the leadership of the Senate under its President, Bukola Saraki, for being forthcoming and pragmatic in addressing issues of national interest.
Bukar, who also holds the traditional title of Madawakin Daura, also lauded the efforts of President Muhammadu Buhari on anti-corruption crusade and other numerous ongoing sectoral reforms especially in economy, agriculture, security, education and youth empowerment.
Newsmen recall that the senator recently flagged off a free eye treatment outreach in which more than 15,000 patients across the 12 local government areas of his senatorial district.
NANn