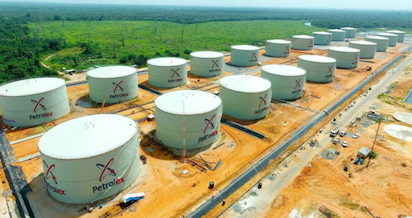 Petrolex Group tank farm
Petrolex Oil & Gas Limited, Africa's emerging indigenous energy giant, is set to launch its ultra-modern tank farm facility on 12, December 2017, at Ibefun, Ogun State as part of Petrolex Mega Oil City, planned to revolutionise the Nigerian oil and gas landscape.
A first of its kind in sub-Saharan Africa, the 300 million-litre tank farm will be commissioned by Vice President Prof. Yemi Osinbajo, GCON. It has the capacity to turnover 600 million litres of petroleum products every month, enabling products to be stored and distributed effectively and more efficiently, for better services and higher turnover.
The facility is expected to create over 10,000 new direct and indirect jobs, improve throughput capacity for distribution of petroleum products by over 500% whilst Petrolex's extensive social investment programme is expected to impact over two million lives and maintain a very healthy balance with the environment.
Equipped with state-of-the-art technology, the facility is set to decongest Apapa and Ibafo tanker traffic by 60% thereby eliminating hazards associated with storage and transportation of petroleum products in those areas.
"As a solutions-driven company, we are positioned to drive increased efficiency and consistent value creation across the West African downstream oil and gas value chain through our strategic investments and the delivery of superior quality products and services. Working with our diverse stakeholders, the successful completion of the first phase of our mega oil city in Ibefun, Ogun State, Nigeria demonstrates our disciplined approach to project management and signposts our ability to execute large-scale energy development projects that will move the region forward," said Segun Adebutu, Chairman/CEO of Petrolex Oil and Gas Limited.
To facilitate the achievement of its strategic goals, Petrolex has 16 barges, 8 tugboats and a 30KT vessel. In addition, Petrolex Mega Oil City has a residential quarters, army barracks, 30 loading gantries, gas processing plant, and a 4000-truck capacity park with accommodation for drivers.
The tank farm is highly accessible through land and waterways; with easy access from the Atlantic Ocean. Its proximity to the Lagos market, and easy accessibility to the Northern and Eastern parts of Nigeria gives it a strategic advantage, as customers can load their products in unprecedented time and avoid delays which characterise the industry.
A Price Waterhouse Coopers audit put the value of the tank farm at over $330 million even as Petrolex continues to commit its energy towards the strategic pillars for sustainable development: people, energy management, environment, product stewardship, occupational health and safety, and social institution building.