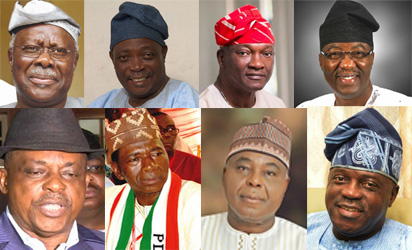 From top left: Olabode George, Rashidi Ladoja, . Jimi Agbaje, Gbenga Daniel, Uche Secondus,Tunde Adeniran, Raymond Dokpesi and Toaheed Adedoja
By Dirisu Yakubu
ABUJA – Less than 24 hours after one of the chairmanship aspirants of the Peoples Democratic Party (PDP), Chief Olabode George announced his withdrawal from the electoral contest, another aspirant, Chief Jimi Agbaje has also bowed out of the race.
Agbaje who announced his withdrawal on his personal Twitter Handle said his decision is informed by the need to reduce the number of aspirants from the South-West geo-political zone to boost its chances of producing the chairman at the convention.
While thanking his supporters for the confidence reposed in him, the former Lagos State PDP governorship candidate in the 2015 general elections, enjoined more aspirants from the South-West to pull out of the race in the interest of the zone.
He wrote: "With less than 24 hours to the convention, I have painfully decided to withdraw from the race hoping that others will join me in bringing down the number such that the South West can have a fighting chance of clinching the national chairmanship of the PDP.
"The support from serving and past governors, senators,members of the House of Representatives, women,youths and opinion leaders has been tremendous. While sincerely thanking them for their unflinching loyalty, I empathize with the great disappointment they must feel at this decision.
"I am however convinced that with seven out of all nine aspirants coming from the South West, this multiplicity of contenders will work to the detriment of our zone when it comes to voting. Delegates' votes split 7 ways will not produce a chairman from the South West."
He promised to support the new chairman, while reiterating his belief in micro zoning arrangement, saying the national chairman of the party should come from the South-West.
"I plead that we all put the overall interest of PDP first. I pledge my support to whoever emerges as the national chairman as determined at the national convention," he said, adding that he had "At different fora, expressed my strong belief that the next national chairman of our great party should come from the South West.