By Osa Amadi
You can't turn back the clock, but you can wind it up again, wrote Bonnie Prudden. Nigeria's history may not be inspiring, but her story can be rewritten. This is Olaniyi Ayeni's thesis in this book.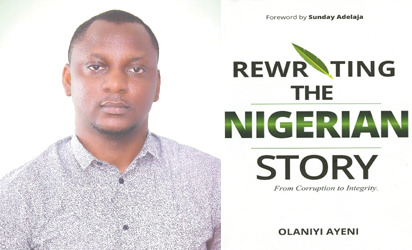 The author has given himself an arduous task – to convince Nigerians to believe in, love, and be proud of Nigeria. I say it is arduous task because I have read similar books, listened to great songs about Nigeria, and heard many campaigns which sought to inspire people to buy into such ideals, but it has never worked, because, some people say, the foundation is faulty, and whatever is built upon such faulty foundation is bound to crumble, sooner or later.
Another reason sermon of faith in Nigeria is a hard sell is people's disillusionment arising from cold facts and evidences of systemic rot, bigotry, looting, dishonesty, official banditry, brazen stealing, impunity and unfulfilled promises by government. The author confirms this in his preface (p.12) when he writes: "The themes (about Nigeria) that come to (people's) mind are corruption, chaos, insecurity, poverty, inflation, etc."
But Mr. Ayeni believes all these engrained negative attitudes, frayed emotions, and hatred for fatherland can be contained by rewriting the Nigerian story through the adoption of certain measures.
First of all, we must cease to live in the illusion that God will come and save Nigeria. In fact, says the author, God has already done that by saving the entire world. We can only look forward to His return for our judgment according to how we have been able to utilize the gifts, skills, and talents God had bestowed on us to build the country.
The author cites Nigeria's embrace of the recent Ponzi scheme and proliferation of bet business across the country as examples of Nigerians' penchant for making money without working for it. While this may be so with some Nigerians, the general truth is that Nigerians are amongst the most hardworking people in the world, but draconic economic and political structures coupled with bad governance have prevented the fruits of hard work from accruing to the people.
When the author says: "Stop praying for Nigeria," (page 41) one may think he is an atheist, but he is not. In fact, from manifest content, he appears to be godlier than many prayer warriors and apostles of 'pray for Nigeria.' The point the author is making is that faith without work is dead; that religion is the opium of the people; that in fact, God is waiting for Nigerians to act.
To rewrite the Nigerian story, therefore, Nigerians must begin to imbibe values such as the rule of law, integrity, hard work, education, and strong abhorrence to corruption.
With this book, Olaniyi Ayeni has made an important contribution to nation building and expanded the boundaries of knowledge.